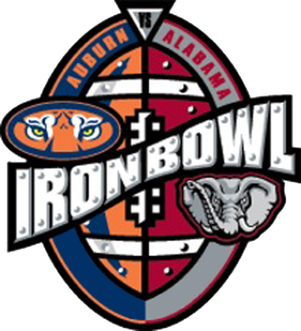 Well, barring a revolutionary change in the next several months, this Saturday's Iron Bowl is my last one. I'm glad it is a game of consequence—its winner taking the SEC West and almost certainly controlling its destiny for the national title—and I'm looking forward to watching it.
I've attended five Iron Bowls in person in my life, though I haven't been since I was 14. Uncle Don used to have a recurring block of fantastic tickets, and Dad and I were frequently beneficiaries. I got to go in 1980, 1981, 1982, 1983, and 1985.
Of those, only 1980 was unremarkable. The 1981 game was Coach Bryant's 315th win, passing Amos Alonzo Stagg to become the winningest college football coach in history. The 1982 game was Auburn's first win since Punt 'Bama Punt. The 1983 game, played in an absolute deluge and another Auburn win, was the day we came home to the aftermath of the Oxford tornado. And 1985 was The Kick, which my stepbrother Chris and I watched from the opposite end zone, having left our seats when Mike Shula was sacked.
What a great memory. I remember the moment for two things, primarily. First, I've never heard 70,000 people be that quiet. It was weird. Second, I remember thinking the scoreboard operator must have been an Alabama fan, because the digits ticked off 23-24-25 way before the ball went the 52 yards to the goalposts. It was indeed a phenomenal kick that might have gone 60. Looked like an extra point, really.
(And oh, had Tiffin missed, he'd have gotten another try from five yards closer. Auburn was offside.)
Drama this year? Sure, I'll take it—as long as it ends correctly. I'm sure I'll have to watch Kick Six four or five times during the day, but hey, you know what? Auburn hasn't won since that game. (I'm happy for it to join Punt 'Bama Punt in Auburn lore in that regard, because Alabama won the next nine after that game.)
Enjoy the game. I'm planning to. Whatever the outcome, please be kind to one another. I know it's hard to remember this, but we're talking about kids playing a game. Nothing that happens on that field Saturday is of any legitimately significant importance.
For my prediction, I'll say Alabama 31, Auburn 27.
Similar Posts: