UPDATED: Truck and trailer have been recovered because of a report from a social media posting! The new generator was the only outright theft. There is minor damage to the trailer, and significant damage to the interior of the pickup. Most importantly, no instruments were lost. That means no family hardships, which is a tremendous blessing. Thank you God!
Last night, the East Limestone marching band trailer, and the white/gold crew cab F-250 pickup to which it was hitched, were stolen from Embassy Suites at 2300 Woodcrest Place in Birmingham. The 24′ enclosed trailer contained all of the woodwind and brass instruments, three sets of tenor drums, two sets of multi-tom drums, multiple drum carriers and stands, new color guard equipment, a new generator and cart, and the drum major podium.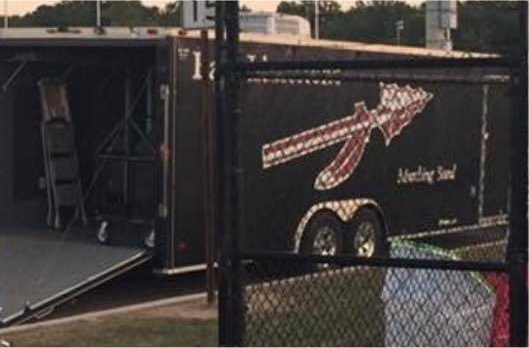 Please keep an eye out for this stolen equipment. (Any thief with two brain cells to rub together would get rid of the East Limestone markings quickly, so keep that in mind too.) If you have anything at all to report, please contact the Limestone County Sheriff's Office at (256) 232-0111.
Here is the final show the band did before the theft. This is Saturday, November 4, 2017, at the West Alabama Marching Festival in Gordo, Alabama. The band swept the competition, receiving straight 1s and the Best of Show (all classes) award.
Insurance will help, but there will still be a significant gap to close. If you are motivated to help the band recover from this financially, we would certainly appreciate it. This is not a band of particular affluence and this is a hard hit. Please prayerfully consider donating here. Thank you. (UPDATE: My understanding is that the band will replace the generator and repair the trailer with the money collected.)
Similar Posts: