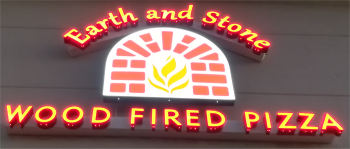 Lea, the boys, and I just got back from the soft opening of Earth and Stone Wood Fired Pizza in Madison.
This is the dawning of a new age.
In all seriousness, we're delighted the Madison store is finally open (the boys especially). This is a good dinner play now. This is a good ball game play now. It's barely eight minutes from the house (in the shopping center near Madison Hospital on 72).
Earth and Stone is some of the best pizza you'll ever put in your mouth (read my reviews here and here). It is a gourmet, hand-crafted product. It cooks at 850 degrees exclusively in wood-fired ovens that are manufactured, installed, and maintained to exacting standards.
They also have homemade ice cream, including adult varieties (with liquor). The bourbon butter pecan is absolutely outstanding.
Stan Stinson and Tina Ford, Earth and Stone's owners and operators, are some of the most talented and hardest-working restaurateurs in the area. I congratulate my friends on the tremendous growth of their endeavor to date, and wish them all the best as they launch this new flagship store. Good luck and God bless, Stan and Tina! We'll certainly do our parts!
Similar Posts: