I would guess some people will compare Milo Yiannopoulos to Icarus.
I am reminded instead of one of my stepbrother's years-ago adventures. Long story made very short: bunch of buddies together, one had a go-kart, and oh yeah, there was some beer. Every time they refueled the kart they were using a bottle of 104 Octane Boost in the gasoline. Then someone got the bright idea to run the kart on only 104 Octane Boost. Holy shit, that made the kart go fast!
(For 30 minutes or so. Then the engine burned up. I believe I remember the words "melted piston" being tossed around.)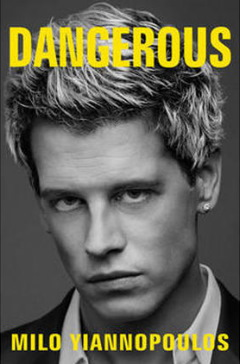 I was momentarily fascinated by Milo Yiannopoulos. I appreciated a lot of what he had to say about the scourge of political correctness and the warped objectives of fourth-wave feminism.
But mostly I watched because his numerous detractors blew through "dislike" so quickly. He fostered near-immediate visceral hatred in liberal ideologues, at an intensity I really hadn't seen since Rush Limbaugh 20 years ago. It was hard for me to see why. He told you right to your face that he was an asshole and a provocateur. If I tell you I'm trying to piss you off, and then you get pissed off to the point of meltdown, then…?
Thing is, you could always smell the heat. This was not a guy who ran any slower than 6,000 RPM. The engine had some power, but it was also operating at most of capacity all the time. As that olfactory cocktail of hot metal and stressed oil became richer and more pervasive, it wasn't hard to guess that we probably weren't headed for an orderly gear-down and cool-off.
Turns out Milo's melted piston was saying it was just dandy for adult men to have sex with young boys.
I had been intrigued enough to want to read his book, but Simon & Schuster isn't going to publish it now. That's the right call. You can't make extensive comments attempting to legitimize pedophilia and still expect to sit at the grown-up table (however tenuously you were doing so).
We'll have some disingenuous machinations now, during which his very blithest fans will try to reconstruct a rational base on which to support him, and some number of his detractors will try to install him as the universal leader of all conservatism, now that he's been unambiguously discredited. Lather, rinse, repeat.
Next!