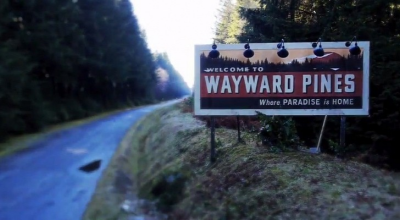 Well, maybe you can. I can't.
I got excited about Wayward Pines last year. The premise (what we knew of it at the outset) was intriguing. The cast was excellent. M. Night Shyamalan was a key player. And it really, really appealed to me that it was 10 episodes up, 10 episodes down, and done. I waived my usual no-first-run-TV rule because of that. Set the DVR, start it 22 minutes late so I can zap commercials, and go.
See, though, the 10-episode characteristic was important in a number of ways. For one thing, there was no time to waste. The writing and the direction were taut indeed. When you have seven actual hours to tell a story, the television comes out lean as turkey bacon.
For another, I know where I am for big things. When the big reveal comes in episode five, I know there's probably not another one. When there are loose ends in episode eight, I know I'm not far from resolution.
There was too much that appealed to me about the original run that inherently cannot be reproduced in a second season.
I watched the first episode of the second season tonight. It was skillfully written, directed, and produced. It was a good 42 to 44 minutes of high-quality thriller television.
But I understand all of the major trappings of the community of Wayward Pines now. I know what I'm looking at.
I hate it, but I think that's fatal to my interest in the show. What I saw tonight could have been any show with good guys and bad guys. The backdrop, the details—they're all there, but I know them now. There isn't enough novelty or mystery in front of or around them to keep me.
I can't stay. I'm sorry. Thanks for a great first season.
But I think we should see other people.
Similar Posts: