Well, I went to check on our esteemed governor's Twitter feed this morning, and was greeted with the following: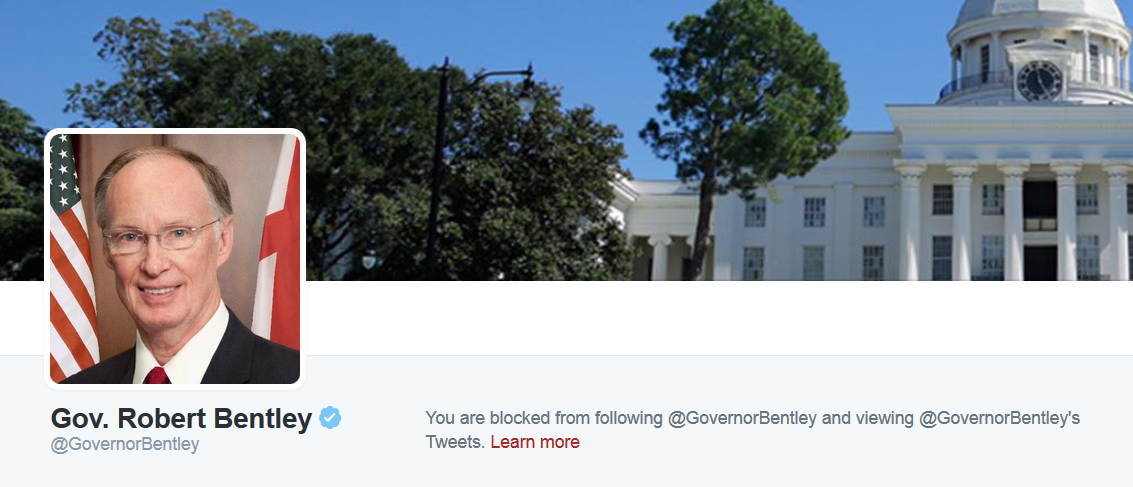 That's right. Governor Robert Bentley—ostensible leader of my state, fondler of 'Bekah, dodger of Wanda, and a man I voted for twice—blocked me on Twitter.
I can't be sure which tweet finally pushed our favorite lecherous pepaw over the edge, but I'm guessing it was one of these:
Do I feel badly about any of this? I do not. Do I think I am better than Governor Bentley? I do not.
Seriously.
It is not my place to sit in judgment of Bentley. He seems fairly certain to have committed some acts that I find truly despicable, but even so, I am a man, and we all fall short. (A rather important book tells us that.)
I do remember a time, however, when it was customary for a good man to own his mistakes, and in the interests of dignity and honor, try to atone for them. In the case of a man who held and abused high office to commit his sins, said atonement would include relinquishment of the office.
It is distasteful that there is a phone sex recording of Alabama governor Robert Bentley. It is disgusting that Robert Bentley is still the Alabama governor.
And, as I've said in other contexts: contrition that precisely coincides with exposure is probably not contrition.
So, run Bentley off? Yeah. I'd love to. I'd love to reinsert the concept of shame into his world view. That's the point of my posts. I really don't care a thing about nailing his sorry ass to the wall. I just want him to go home and be quiet for the rest of his life—somewhere besides the house that belongs to me.
So are you ready for the punchline?
The luv guvnah's Twitter block isn't taking on my phone. Bug in the Windows Phone Twitter client? Don't know. But I can still see his posts and reply just fine from there. As my friend Jason put it: my tweets are as unimpeachable as he is.
Let's party, Bobby!
Similar Posts: