This is part of an ongoing series reviewing hot wings in the Huntsville area. Visit #HsvHotWings for a comprehensive linked list.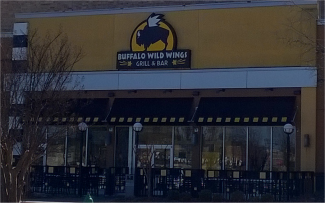 The hot wing adventure begins! Up first is Buffalo Wild Wings, at the terminal Madison Square Mall, lurching through its final days of its first incarnation. The hottest wings at Buffalo Wild Wings are known as Blazin', which is a reformulation of an earlier sauce now including ghost pepper. I had the small lunch special, which on the day I visited was 5 drums and 3 flats, with a side Caesar salad. By default, the wings are served with dressing, but without celery. At $10.67 before tip the pricing was within tolerance, and my server Alexandria did a fine job.
So let's get to those wings.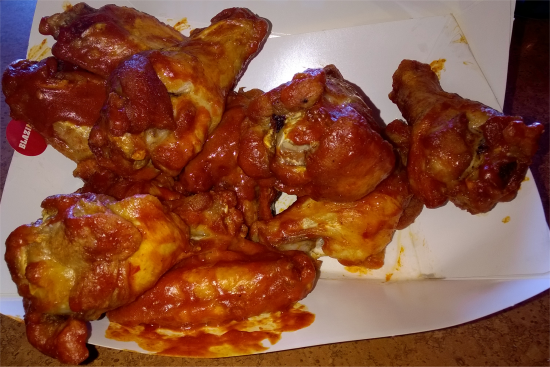 Quality: 8/10. Wings were large, but just a little fatty. They were cooked perfectly, and served promptly. In fact, they reached the table at a high enough temperature that I needed to separate them and let them cool a bit before eating.
Flavor: 5/10. The gustatory scaffolding is one of classic buffalo sauce, and I detected a bit of the advertised ghost pepper early on. Unfortunately, the dominant flavor is a not-altogether-pleasant mixture of vinegar and salt, with perhaps a bit of added bitterness from pepper extract. Not repulsive, but not something you'd necessarily seek out either.
Heat: 7/10. This was the biggest surprise. I did not expect significant heat at a national chain, but I got it. It escalates quickly, giving you a sustained assault that hits full strength about halfway through the third wing and doesn't begin abating until about five minutes after your last one. Lips and tongue are the primary victims. I got a good sweat, and even a little endorphin rush.
My expectations were modest, so they were exceeded. This was not a bad play for a faceless megacorp. Looking forward to further exploration. Stay tuned.
Similar Posts: