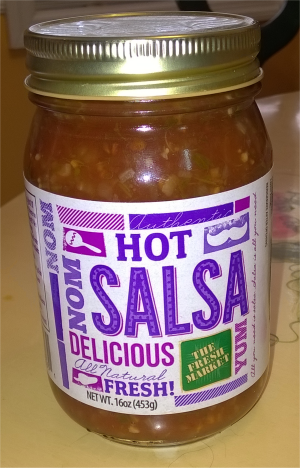 The Fresh Market isn't convenient to my house, but I'm down there enough to swing by occasionally. Recently I picked up a $2.99 jar of The Fresh Market Hot Salsa for a review.
Interestingly, this salsa is not organic, as the Earth Fare and Sprouts offerings are. I checked and double-checked the shelves to make sure I wasn't missing a store-brand organic offering. I'm confident my local Fresh Market didn't stock any such salsa when I looked.
So what do we have? Ingredients: Tomatoes, onions, cilantro, habanero peppers, garlic, salt, and lime juice.
This is an intriguing composition indeed. Cilantro ahead of peppers? Also interesting is that habaneros carry the entire chile pepper load here. Most salsas support with jalapenos, and many even contain bell pepper.
I tried a spoonful of it straight, and then ate a goodly amount of the jar with Tostitos Scoops. As might be expected, inside a customary tomato and onion scaffolding the cilantro hits hard, with garlic following closely. There are enough habaneros here to impart significant flavor as well as heat, and they begin making their presence known too.
(Funny thing about habaneros, and maybe even all Capiscum chinense cultivars: they build slowly, but relentlessly. People get in trouble with habaneros because by the time it actually feels like a problem, it's too late.) Indeed, the heat here is no problem for a chilehead, but there is definitely some there. This is accurately labeled as hot.
The salsa seems to be made nearly entirely of vegetable chunks, though small ones, with readily apparent cilantro pieces. It clings reasonably well to a chip. It's not a particularly appealing color; maybe a little paler than you might like?
The Fresh Market Hot Salsa is an unusual product. Cilantro is a common herb to flavor salsa, but it's strong enough here to be a good piece of the gustatory road to pico de gallo sauce. The effect is not unpleasant, but it makes it a bit of an outlier for some applications. I like it, but it could be polarizing. You probably wouldn't want to have it as your only offering when serving chips and salsa.
7/10
Similar Posts: