When the weather turns cooler, one of our favorite go-tos for dinner is Lea's mom's chili soup.
You need:
1 lb. (or thereabouts) ground beef
1.5 quarts (or thereabouts) tomato juice
1 white onion
1 14-17-oz. can kidney beans
1 tablespoon chili powder
Salt and pepper to taste
1 cup elbow macaroni
Brown and drain the beef, chop the onion, and combine all ingredients except the macaroni in either a soup pot or a slow cooker (depending on when you need it to be ready). Simmer on low heat. When you're 15 minutes (in a pot on the stove) or 30 minutes (in a slow cooker) out from dinner, turn the heat to medium-high and toss in the macaroni. When the pasta is done, reduce heat to serve. That's it!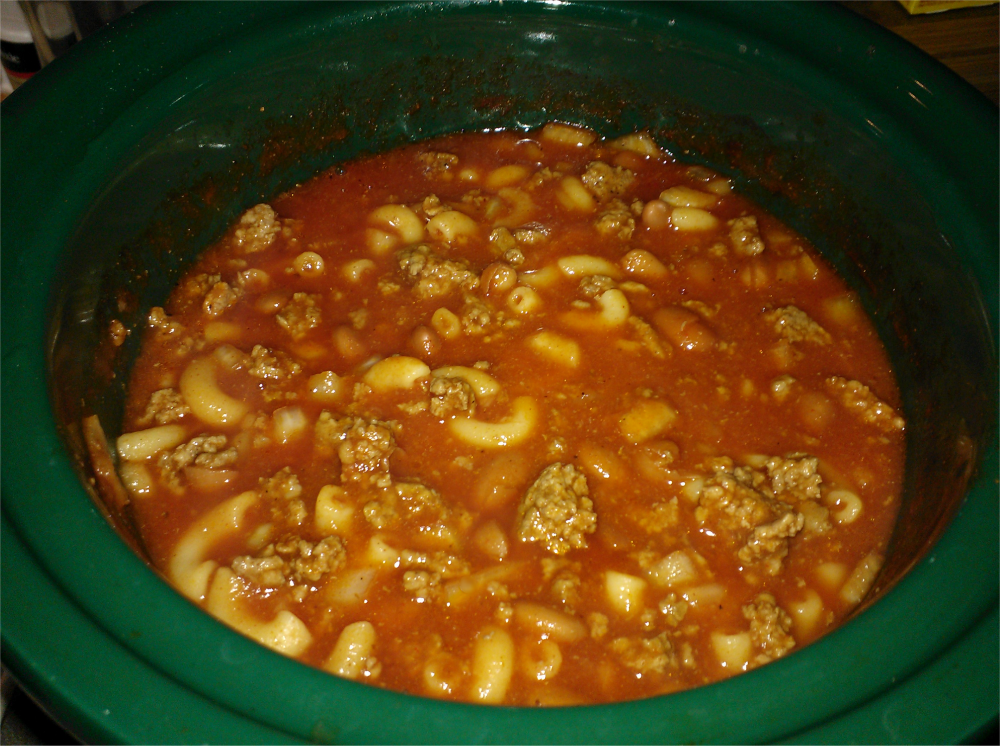 Tips:
All of the traditional chili accompaniments—sour cream, shredded cheddar, corn chips, and so forth—work well with this soup.
We like ground round best for the beef.
Use a full tablespoon of mass-market chili powder. If you're using something nicer like a Mild Bill's offering, start with two teaspoons and adjust as necessary.
This soup is mild as it sits, but it takes super-hot peppers and sauces very well. I heat mine up considerably in the bowl.
It'd be tough for this to be any easier, and our whole family really enjoys it. Give it a shot next time you need something mindless after a long day.
Similar Posts: