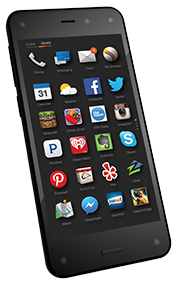 Amazon.com debuted its first smartphone a month and a half ago. The Fire phone is a robust piece of hardware running Amazon.com's forked and highly modified Android operating system. It has cool features like Dynamic Perspective, Amazon.com's near-instant video customer service Mayday, and of course very tight integration with the entire Amazon.com ecosystem.
It bowed at $199 with a two-year AT&T contract. Amazon.com just dropped it to $0.99. (I didn't suggest anything quite that radical, but I did say $199 was too much.)
From this move we can deduce two things. The first is that Amazon.com is trying to steal whatever thunder it can from Apple's next-generation iPhone announcement. The second is that Fire phone sales must be pretty awful.
Ah, but there must be some significant number of people who plunged at $199, and these people are likely to be some of Amazon.com's greatest customers and fans. Think they're feeling rooked?
I don't have a Fire phone, but I have been a loyal Amazon.com customer for 15 years. Most of what has kept me in the fold has been impeccable customer service. Amazon.com, you have an opportunity to extend that reputation right now.
Every single person who became a Fire phone owner at $199 should receive an Amazon.com gift card for $198.01.
Yes, smartphones are technology products, and we don't expect them to stay at the same price forever. But a 99.5% price cut 46 days in is a bit much to swallow.
Amazon.com, do the right thing. Make your $199 Fire phone customers whole.
Similar Posts: