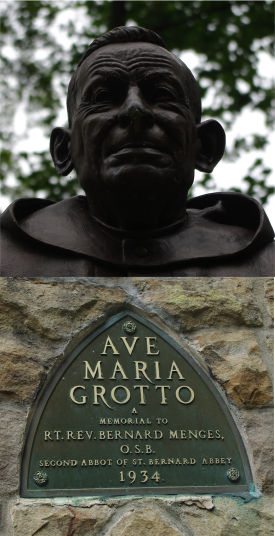 I am 43 years old. I have never lived more than 85 miles from Ave Maria Grotto. The first time I ever visited was today. It will not be the last.
Ave Maria Grotto is the life's work of Brother Joseph Zoettl, a Benedictine monk of St. Bernard Abbey, where the park is located. Situated on about four acres are more than 100 reproductions of historic buildings and shrines from around the world, with Rome and Jerusalem most prominently represented.
I've included several photographs (click for larger), none of which remotely capture its majesty. No photographs can. You simply must visit. It's a mere $7 for admission, and if we're neighbors, you can be standing in the garden in less than an hour. They're open 9-5 every day but Christmas. I-65 south, exit 308. Turn left, drive four miles, and turn right.
It is immediately clear that Brother Joseph worshiped through his art, and it's a profound experience to be immersed in it. I am so thankful for the peace I experienced there. I am so thankful for what felt like God telling me "you're thrashing about so, Bo, every chance you get. Relax. I got it."
Get Ave Maria Grotto on your list. It's one of the best day trips we've ever taken.
Similar Posts: