I've been a regular contributor at Rocket City Mom now for over a year. It's the premier online parenting resource in the Tennessee Valley and a very well-run site, and I'm proud to be associated with it. I took July off from RCM, and resumed today.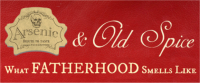 Mostly, I do two things for Rocket City Mom:
I write a column called Arsenic & Old Spice. Usually it's about being a dad. Sometimes it's about something peripheral. Here is today's column. I usually try for at least one laugh per piece, but mostly I try to get to the guts of things. I try hard to write without pretension when I write A&OS. Parenting is visceral, and it's rarely tidy. That's the spirit I'm trying to plug into. If you read something I wrote here that resonates with you, then please, scatter it to the four winds. Thank you.
I do reviews. Usually these are restaurant reviews, but I'm known to review a recurring event once in a while. Do remember, Rocket City Mom runs only positive reviews. If I have an experience I can't say mostly good things about, then I don't write about it.
If you're not reading me at Rocket City Mom, please consider yourself enthusiastically invited!
Similar Posts: