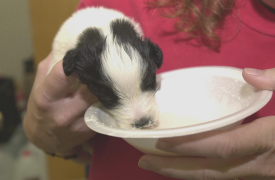 I'm 43 years old, I've lived in Alabama all my life, and I've never been hunting.
I've been around it, here and there, all my life. I mean, I could effortlessly list 50 people I know who hunt. Seems like I ought to like it, actually. I like guns. I like being in the woods. I've certainly eaten my share of venison, and I've had a bite or two of duck too.
But my dad and I never went, and I suspect that's almost necessary for any real affection for it to take root.
He went deer hunting and duck hunting with his father. The only time I can remember asking Dad about it, he said it just wasn't his thing. He enjoyed being with his dad, but he was ambivalent about the activity itself.
I don't have any ethical or moral problems with hunting, so long as kills are eaten (or sold for such) and reasonable care is taken to prevent undue suffering. I also think it's important that it be done in the wild. I think what is commonly known as the "canned hunt," in which an animal is contained in a confined area and has absolutely no chance of escape, is a pretty awful activity.
I think the hunter should be present, too. There is such a thing as hunting over the web now, with a camera and remote control over (for example) a tripod-mounted firearm. Did you know that? I don't agree with that at all.
Hunting has consequences, and while I believe it can be qualified as a defensible—even noble—activity, I think the hunter should be there to see, smell, and touch the blood s/he spills. There is basic give and take occurring. You're taking a sentient life. You owe that animal respect enough to be there to fully own your deed.
What do I mean, "noble"? Well, a capable hunter has a leg up on caring for his/her family should all of the institutions we pretend are indestructible fail. I think any hunter who recognizes and cultivates the value of such is doing a good thing.
No one who eats meat should have any problem with hunting as I have described it above. If you have one, we need to take a field trip to the slaughterhouse.
(And we will, in a future post in this series.)
Now the kind of hunting I find absolutely despicable is straight trophy hunting. (Blogged about that once before, in the context of discovering that a childhood friend was into it.)
Hunting and using the animal for your sustenance is one thing.
Hunting for the sole purpose of stuffing the animal or displaying its hide just to prove you did it is quite another.
The childhood friend I mention above came to my renewed attention when I saw a photograph of him, beaming, hoisting a leopard from which he had just snuffed the life. I saw another photograph of him with the carcass of a zebra. (He called that one "hard-won," whatever that means.) I saw yet another photograph of him with a dead giraffe sprawled all around him.
Folks, I have a blogging category called Bug Shots. There are some awfully cool arthropods all around us, and I love it when I get a decent photograph of one and can share it. I would never dream of killing any of these creatures. I thank them for the close look—yes, often out loud—and leave them alone.
That is exactly the only way I can ever see "hunting" an animal like a leopard, zebra, or giraffe.
Why? Why?
What is the motivation of someone who takes life just to do it? Why can't that person put $2000 in a camera instead of a gun? Why can't a blown-up, high-resolution photograph stand in for a skin as wall adornment?
I said in that post, and I'll say in this one:  I don't think I'd ever get all the way over killing a giraffe. I think anyone who can do such a thing and put it to bed in his/her mind is someone I'll never relate to much.
There are a fair number of people who say we should never take an animal's life, for any reason. I am not one of them. But I do recognize it as a transaction. There is loss. There must be gain sufficient to offset it. Two weeks' food qualifies.
A wall decoration doesn't.
Similar Posts: