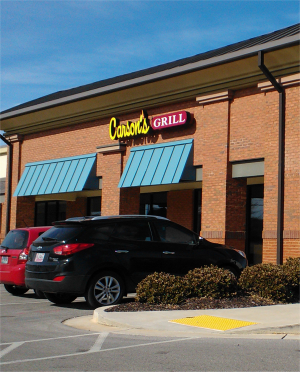 My third restaurant review at Rocket City Mom went up today! It's a detailed look at Carson's Grill of Madison. Go check it out. I plan to do these reviews fairly regularly for RCM in 2014. I think it's reasonable to expect six or eight more this year, at least.
Reviewing restaurants for Rocket City Mom is a little different from doing it on BoWilliams.com. For one thing, I'm reviewing with other family considerations besides my own, because Rocket City Mom is for moms (and dads) of children of all ages. (I haven't cared whether there are highchairs in several years, but lots of folks do!) For another, Rocket City Mom does not publish negative reviews. If I have a subpar experience, I just won't write about it there.
I'm after no compromises when I'm looking for a place for our family to eat out. It's easy to provide either the kids or the adults a high-quality experience. Where is a good place that does both? That's my angle at Rocket City Mom. Stay tuned for further.
Click here (and then bookmark it when you get there!) for all of Rocket City Mom's restaurant reviews.
Similar Posts: