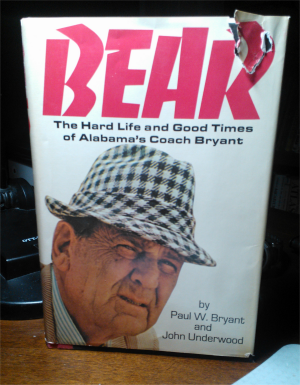 I have a copy of Coach Bryant's 1974 autobiography that belonged to my grandfather. It doesn't have an index, and it's been probably ten years since I read it. But I remembered something in it I wanted to talk about, so I was delighted to find it in just a few minutes, on page 214. Coach Bryant was at Texas A&M, and the scene is post-game in the locker room after beating Texas:
One of my favorite expressions is "mamas and papas." I've about worn it out now; I've got to get a new one. But I'm always saying how important it is to have good "mamas and papas."

Anyway, everybody's happy and hugging around, and they've thrown me in the showers, and somebody asked [A&M player] Murray Trimble what he thought of the Texas team.

Murray said, "Well, not much. They probably don't have good mamas and papas."

I like to died when I saw that in the paper. Can you imagine whose dressing room wall that went on the next year? And who beat us the next year in a big upset?
Though I didn't use the anecdote specifically when I had the below conversation with Nathan, I thought of it. It was maybe three years ago, right around the time a kid starts getting interested in the game for real. So Nathan was 9. And 9-year-olds aren't very good at nuance.
I don't remember what game it was, but something had not gone Alabama's way, and Nathan singled out one of the opposing players and started going on about what a terrible person he was.
I said something like "Nathan, every single player on that field has someone or a group of someones who is unbelievably proud of him. It takes a lot of work and a lot of heart to play top-level college football, and that's true no matter what color the guy's shirt is."
Most of them will not play football for a living. Almost all of them can still reasonably be called kids. Their families, their churches, their hometowns swell with pride. Johnny starts for Big Name University. It's a big stage. But he's still a kid, and this is still only the next page in the story of his life. It's just unusually visible to us.
It is OK to be ecstatic for an Alabama team that escapes on the last play of the game to be crowned SEC champions and go on to play Notre Dame for the national title. It is human to also feel terrible for Georgia quarterback Aaron Murray, who was literally an inch of C. J. Mosley's finger from accomplishing exactly the same thing. Played a great game, kid. Left it all out there. Still wasn't enough. Tough break. Happens sometimes.
It is OK to lament the mistakes that cost Alabama the Iron Bowl and the Sugar Bowl this year. It is human to also consider what a wonderful moment it was for Chris Davis, who returned the missed field goal 109 yards for the game-winning touchdown. It is human to also consider the joy of the Oklahoma players who came in as 17-point underdogs and left Sugar Bowl champions.
We don't manage the latter as often, do we? But guess what? Their "mamas and papas" are just like our "mamas and papas."
Alabama is my team. I want them to win every single game forever. I spend time and money on being an Alabama fan. It's important to me.
But none of it is as important as showing my children what grace and humanity in defeat looks like.
Similar Posts: