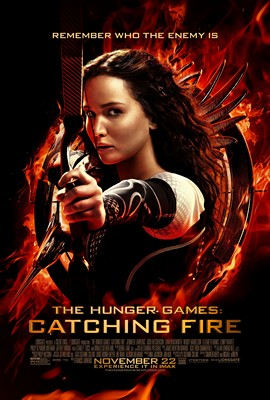 (No spoilers.)
We had originally planned to see the second Hobbit movie with Clan BamaDan today, but Lea's puny, so we postponed hoping to get everyone together later in the week. Today's alternate plan wound up being the boys and I seeing The Hunger Games: Catching Fire. I won't do a full-up review as it wouldn't be timely, but here are a few thoughts.
I liked all three books, but I really only loved the first one. I thought the first film was well done, and I knew I'd see Catching Fire, but figured I'd just catch it one night on the Xbox or something. So I hadn't really paid a lot of attention to this film beforehand, which wound up giving me a few pleasant surprises. I love Philip Seymour Hoffman and Amanda Plummer, and they have memorable supporting roles. I was delighted to see them without knowing they were coming. Other thoughts:
Jennifer Lawrence and Donald Sutherland continue to be archetypes of absolutely perfect casting. You can't get it any more correct than this.
Lawrence's Katniss Everdeen is in a similar arc of character development as Sigourney Weaver's Ellen Ripley. (You know, the person who makes you say "I think following her greatly increases my chance of living, so I'm going to"?) I adore a strong woman action hero who is effective without jettisoning her femininity. More, please, Hollywood!
The production design is lush, effective, and comprehensive. What a beautiful, horrifying world! Judicious CGI restraint is an art all by itself.
I can't be certain, but it seems to me that this film is much gorier than the first one. I think the PG-13 rating has steadily slid into depths that were unthinkable 10 or 15 years ago.
It is a more violent film in general than the first one because the plot is more violent. There is more overt violence from the Capitol.
The run time pushes my upper limits at 2:26. I don't automatically resent a movie running over two hours, but there better be a good reason for it. Catching Fire is never boring, but it might have been a little more effective at a tauter length.
I enjoyed this film more than I enjoyed its book. We had a good time.
Similar Posts: