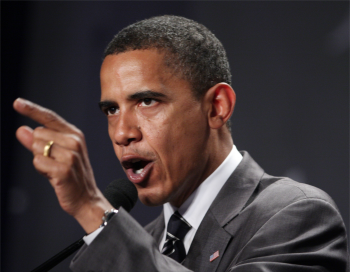 That's what our esteemed president is telling us today.
That's how he's explaining when he said "if you like your plan, you can keep your plan" more than two dozen times and it turned out to be absurdly false. (Recall that he ended it with "Period." more than once as well.)
American citizen, that is how little Barack Obama thinks of your intelligence.
Folks, this isn't hard, and The Prevaricating Teleprompter shall not ooze his way out of this. We all know what he said, many times, and we know it was without qualification. (You don't end a declaration with "Period." if there are asterisks.)
Part of me is still amazed that he's trying to rhetoricize through this massive blunder, as if he expects you to buy it and all will be well. Maybe he really does think he's a god?
Barack Obama owes the American people an apology, and it needs to be a good 10- or 15-minute mea culpa. (I wonder if he has any experience at all with such?) Congress owes the American people a bill that preserves existing insurance plans.
Liberals, you need to stop buying what this charlatan is shoveling. Barack Obama is not good for the United States. Help us figure this out.
But stop buying what this jackass is selling.
Similar Posts: