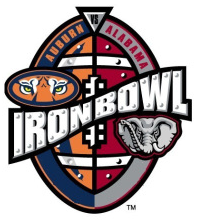 It's Iron Bowl week, and it's a big one.
This is the first time both Alabama and Auburn have been ranked in the top five since 1971. This is the first time it's been a play-in to the SEC Championship Game. (We're about to play the 22nd SEC title game, and it's pretty amazing to me that that's never happened before, though I suppose it would have been the case in 1993 had Auburn not been on probation.)
Lots of people are expecting an excellent football game.
I am not among them.
Auburn has considerably exceeded expectations this year. The most wildly optimistic preseason predictions I can remember had Auburn at 8-5 or 9-4, with I think the much more common assertion being "if they get back to a bowl game, they had a good year." That they are 10-1 and ranked in the top five headed into the Iron Bowl absolutely puts Gus Malzahn on the short list for coach of the year.
But Alabama will not be a polite house guest at Jordan-Hare, and the outcome of Saturday's game will never be in doubt.
For one thing, Auburn doesn't play much defense. As I type, it is 45th-best in the nation against the run, and 94th against the pass. Alabama is easily the most complete offense they have faced, and I expect the Tide to have little trouble scoring. Auburn and Alabama have had six common opponents. The average scores of these six games:
Alabama 38, Opponents 13
Auburn 35, Opponents 26
For another, Auburn hasn't seen a defense of Alabama's caliber. This is not 2011, 1992, or 1961, but it's still a stout unit. Alabama is 4th in the nation against the run, and 6th against the pass. The Tide defense has allowed just slightly more than 91 rushing yards per game. Auburn has run very well, but it's not seen a front like Alabama's, and when Mr. Marshall or Mr. Johnson are forced into a passing game, I expect them to connect more than once with the likes of Mr. Clinton-Dix and Mr. Collins.
Now, though Auburn will not win this game, I do expect them to punch above their weight for a quarter or so. Emotion means adrenaline, and both will course copiously. Auburn's been outscored 91-14 in the past two Iron Bowls, and that smarts. They've got some ability to hit back now, and they will. Auburn may go up 7-0 in the first quarter. Auburn may go up 10-0.
Then the vise tightens. Kirby Smart adjusts. Alabama continues to play its game, undeterred. Its three-headed monsters in the backfield and outside begin to assert themselves. Auburn feels the steady crush of Alabama's superior depth on defense.
Folks, Coach Saban has had two weeks to plan for this game. Are you familiar with his work when he has time like that?
Do you really think A.J. McCarron, C.J. Mosley, and the rest of the seniors are going to drop their last Iron Bowl?
Auburn, welcome back to the party. I think that if you support Coach Malzahn properly, he may nab the odd Iron Bowl victory for you once in a while.
But not Saturday.
Alabama 34, Auburn 16
Similar Posts: