We had a fantastic plan for the weekend at Dad's lake house that degraded to about a C+.
First David was bringing his family.  Then his wife had a commitment she couldn't avoid, so she couldn't come, but he was still bringing their kids.  Finally, he called me yesterday morning with a sick child.  Hate that all the way around, man.  We'll try again soon.
Our boys began lobbying immediately to go anyway, and I was persuaded.  Got to hang out with my dad a bit.  Great day to tube yesterday.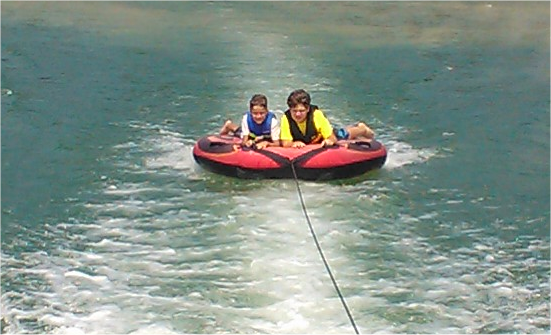 They did this for most of 45 minutes without stopping.  I don't know whether I could ever do it that long, but I certainly can't now.  This beats you up more than you think.
Don't you love it when dogs smile?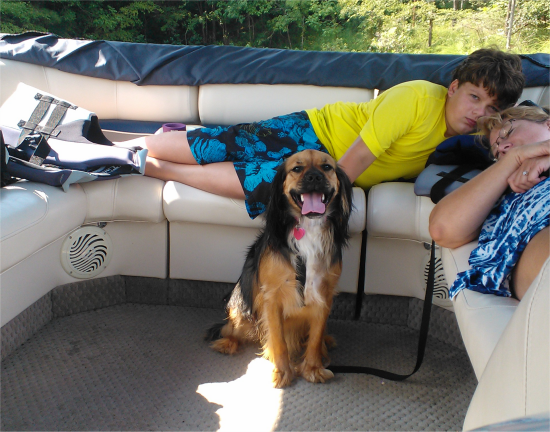 So, we extracted some fun from yesterday.  Then, Nathan woke up this morning with throat pain sufficient to bring tears and, according to the back of my hand on his forehead, an unambiguous fever.  Had planned to stay until after lunch today, but with Nathan suddenly barred from the water, I took Aaron down to the dock for one last WaveRunner ride, and we came on home.
Not the weekend we wanted, but it wasn't without its good parts. I think it was an important restorative for Aaron.  His back-to-school unevenness is gone.
So here we are, and it'll be Monday in the morning.  But, it'll be Monday of WEEK ONE OF COLLEGE FOOTBALL, BABY!
Similar Posts: