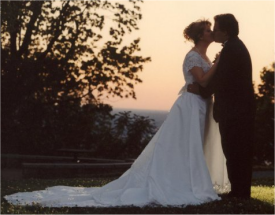 What's your definition of "date night"?
Over the years, as I've told the following story and evaluated reactions to it, it has become increasingly apparent to me just how unusual Lea and I were/are in some respects.
(And, as God is my witness, we did exactly what I say we did in the following paragraphs.)
When Lea and I were dating, we followed a schedule.  On Tuesday, Thursday, and Saturday, we had a standing date, with no confirmation necessary.  The only discussion was whether I would go to her house (usually) or she would come to my apartment (once in a while).  On Sunday, we usually had a date, but it wasn't standing.  Sunday nights had to be confirmed.
On Monday, Wednesday, and Friday, we had nothing to do with each other.
And I mean nothing.  We didn't talk on the telephone.  We didn't email.  Texting wasn't a thing then, but if it was, we wouldn't have.
We are systematic people, and this worked very well for us.  It increased the value of the time we spent together.  Absence makes the heart grow fonder, and all that.  But it also afforded us significant, reliable time in which to do our respective own things.
Understand one other thing, too.  Lea moved straight out of her parents' home into her own place, living by herself.  I did the same thing.  We had each lived as a dependent child, and we had each lived alone.  Neither of us had ever had a roommate.
And on May 10, 1997, we stood under the pavilion at Burritt Museum and declared, among other things and in so many words, that we'd now be roommates forever.
When you get married, there's love, and commitment, and respect, and all that.  But you know the first time that roommate aspect of it is really rammed home for you?  When you've had just about enough of her crap, and you idly think "when is she going home?"
She is home, sport.
And so are you.
Oops.
You know, a lot of young people don't particularly want advice.  Us oldsters (heh) keep giving it because we know that as long as we do, there's at least some chance it will be heard.  I give very consistent advice to any young person of either sex who is looking for a mate:
When you are truly all right by yourself is when you are best equipped to be with someone else.
Intimacy is a superset of vulnerability, and it must be a voluntary transaction.  You have to decide to roll over and expose your soft underbelly.  Doing so says two things to your partner:
I'm trusting you not to rip me open; and
I think we can grow something bigger than just the two of us added together.
That "something bigger" is, I'm convinced, among the most profound wonders that we can experience in our earthly existences.  I am a better man for Lea.  Of that I have no doubt.
But see, I brought a strong hand in.  So did she.  What of those strong hands?
Guess what?  Even in the healthiest marriages, it is perfectly reasonable to want to get away from each other once in a while.  Even in the healthiest marriages, you can have a (gasp) sense of self about you.
You won't get relief when she goes home, because, yeah, she is home.  Wow, is that ever an adjustment in the first year or so.
But it's absolutely all right, from time to time, to be happy at opposite ends of the house for the evening.  She's a human being.  He is too.  Both have foibles.  Some of them respond to a concentrated examination, but some don't.  Some are things you're resigned to tolerate work with long-term.
When, acutely, this evening, you're not going to get to (at least) détente on one of those things, then off to your corners, and it's all good.  We'll pick back up in the morning.
I've said for some time that a cornerstone of a successful marriage is the absence of perceived alternatives.  When you are both on that same page, and you understand that however you solve the problem, you believe in your soul that you'll solve it within the framework of you staying together, then you've gone a long way toward not contributing to the ridiculous divorce rate.
When you're operating in that framework, then you almost can't fail.
Similar Posts: