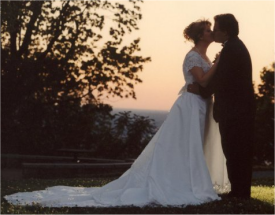 I was terrified of getting married.
I had trepidation from a painful false start, with an undercurrent of general emotional immaturity.  That's not a particularly promising cocktail, and I'm so thankful my wife took that chance with me.
I knew I loved Lea.  I knew she measured up from a practical perspective (intelligence, values, responsibility, and so forth).  I felt good when I asked her to marry me, and I felt great when she said yes.
I still made it tougher on her, and us, than I should have during our engagement.  I picked at scabs.  I touched the plate to see if it was hot.  I hit myself in the head with a hammer, just because it felt so good when I stopped.  At least once, I solidly second-guessed the whole idea of us getting married.  I still vividly remember the look on her face and the sound of her crying.  To this day, it's a powerful negative example—something I never want to reproduce.  I can effortlessly remember her expression, and cringe.
We survived.  We didn't realize it at the time, but we were already an organism.  We were several systems working together for a larger purpose.  That severe local damage never genuinely threatened us, because we were strong enough to survive it.
In most cases, a marriage is a seriously considered thing.  It's right in the traditional vows:  "not to be entered into lightly."  You are casting your lot.  Consequently, the institution that is your marriage has considerable mass on its maiden voyage.  Most marriages are never jet-skis.  They're at least large yachts from the beginning.  They're valuable, they're powerful, they're deep, and they're not always easy to steer.
But their size means they're inherently forgiving, too.  Barring a truly appalling indiscretion, it's hard to hurt them quickly.  It's about actions and words that move them this way or that—a little bit at a time.
So which way are you moving?  Are you cutting, or are you healing?
Did you see Fireproof?  In the movie, a husband who's severely and sustainedly alienated his wife and now wants to repent follows a program called the Love Dare, in which he does nice things for her every day.  He is disheartened when he can't measure results immediately.  He is disappointed when she doesn't respond as he'd like her to.
But see, here's the thing:  he didn't damage his marriage quickly.  He screwed it up with day after day of negative strokes.  Why would he think he could recover quickly?  Yanking the wheel violently to the positive one day doesn't work when it follows a thousand days of not caring.
I know more than one real story of a husband—it tends to be a husband, and not a wife (and we'll get into what that might mean in a future post or two)—coming home from work one day to find his marriage ending.  He walks in, hangs his coat up, she says "we need to talk," and 20 minutes later it's over.  Never knew what hit him.  He was totally blindsided.
Was he really?
What's happening with you?  How do you feel about your wife day to day?
Do you absently join in with the guys in the office when they talk about their "ball and chain"?
How many times in the past six months have you asked "what's for dinner?"?  Is it more or less than the number of times you've asked "what can I make us for dinner?"?
Does she really nag you?  Or do you just complain about her nagging you, because she's a wife, and we all know wives nag, because that's what wives do?
Have you emptied the dishwasher this week?  Done any laundry?
Have you taken the kids out for an hour or two in the evening just in the interest of her peace?  Rubbed her feet just because?
Are you listening when she tells you about her day?  Or are you just patronizing her until you can get away to your man-cave?
In recent memory, have you taken ten seconds, gently grasped her cheeks, looked into her eyes, and told her you appreciated her for all she does?
Most marriages are strong by design at their outset, because most of us don't go in trivially.  You've considered all of the large things and found them satisfactory.  That's exactly the reason that marriages live and die by the "small stuff"—and I put that in quotes because it's not small stuff at all.
You've sussed the big stuff. Because it's settled, in a very real way, it doesn't matter.  It's the solidity of that decision that magnifies the so-called little things.  They're not little things.  They're decisions you make every day that either contribute to or detract from the health of your marriage.
Your organism.
Similar Posts: