Tough to say exactly what's going to happen to Madison Square Mall, but it's not so hard to guess it probably won't be good.
I worked in the mall, off and on, until the summer of 1993 at Computers & More, a satellite store of Madison Books & Computers.  Walking north (more or less) out of the food court toward the mall interior, if you kept going straight you'd walk right in the store.  That's where it was.
The mall was vibrant then.  Vacancies were rare, and when they occurred they didn't last long.  There were several good places to eat (inside the mall, without heading to the perimeter).  About December 15 every year, a small orchestra set up in the central atrium and played Christmas songs every night.  It felt like a destination—something worth leaving the house for all by itself.
Doesn't feel like that now.  I can't tell that it's gotten much worse since the last time I wrote about it, but it's definitely not any better.  I'm occasionally on the property, generally after having eaten with Melanie at Lone Star.  When I drive around the south side to leave via Sanderson Road, the acres of empty parking feel positively mocking.  I marveled the other day at the fact that there's a parking lot actually outside the mall's perimeter road, and wondered when it was last necessary.
Yet for its current ailing, it's nowhere near the decade-long thorazine shuffle The Mall did before it finally expired.  Madison Square is definitely not healthy, but neither is it so far gone that you can't even imagine a recovery of some kind for it.  There are pockets of successful retail immediately around it.  It's not far to Research Park.
Ah, it's not far to Research Park indeed.
Check out what I noticed on Google Maps not long ago: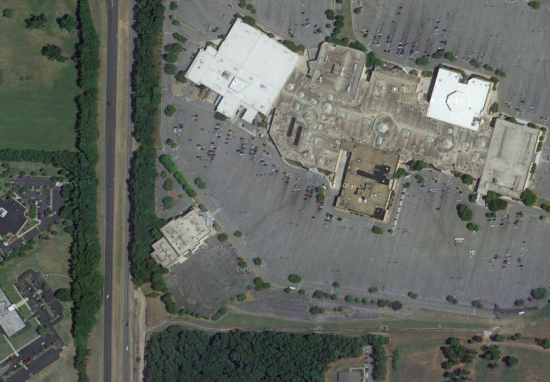 It's barely a football field from the easternmost part of Discovery Drive to Madison Square Mall property.  It's only that far again to the mall proper.
What if a developer took an interest in making Madison Square Mall a walkable destination, with a covered foot bridge over Research Park Boulevard?
Think about it.  Research Park is directly adjacent to hundreds of stores and restaurants, but how many of them are truly pedestrian-friendly?  How much more attractive would/could the Madison Square Mall food court be were it part of a newly imagined indoor-outdoor space, literally only a ten-minute walk from your office?  It wouldn't be cheap, but neither would it be particularly expensive, considering the scope of the potential transformation.
(We can work on the monorail between Gate 9, Bridge Street, Madison Square, and the U.S. Space and Rocket Center later.)  For now, let's just get this done.
What say you, restless developer with a few million burning a hole in your pocket?
Similar Posts: