This location of this restaurant is closed.
Our quest for a truly great wing joint in Huntsville continues.  There are 400,000+ people here, and somehow we've had trouble lining up great food, great service, and a reasonable price.
That seems wrong, doesn't it?
Today my colleagues and I checked out 3rd Base Grill on South Parkway.  The net press was good.  Guess what?  The wings are good, too.  They are of eminently desirable size, and cooked to perfection.
That's an eight-piece lunch special, ordered at the Insane heat level ($1 extra).  They got there largely with habaneros, and I'm here to say, they're not playing.  This was a pretty seriously hot restaurant item, though rather flavorful as well.  It wasn't hot for the sake of hot.  In addition, there was a fruity, peppery complexity that was worth the ride to experience.
Additionally, the service was excellent.  One woman was servicing four tables, and I have no complaints with her demeanor, efficiency, or anything else.  She got better than 20% out of me reflexively.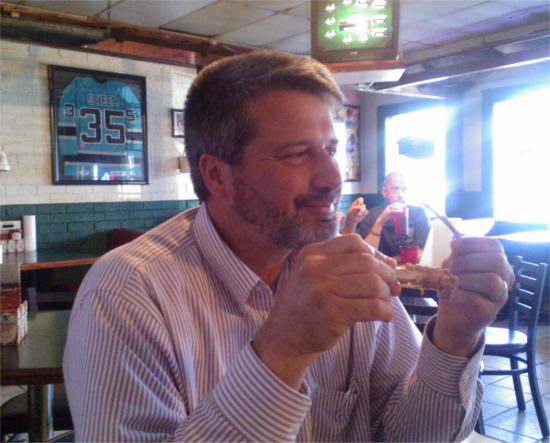 Hi, Jim!
OK, that's the (substantial) good.  Ready for the bad?  Here goes.  The ambience sucks hard.  It's a smoky, somewhat run-down bar.  I didn't see/smell anyone smoking when we were there, but the smell hung in the air just the same.  (I do have to say, it wasn't such a big deal once olfactory fatigue took over.)  Still, this is an unambiguous dive.  This is not a first date place.
Our experience at 3rd Base Grill was much more positive than negative, and I suspect we'll find ourselves back there again.
(I do wish they'd drop a grand at Home Depot and a weekend of sweat equity on the place, though.)
7/10
Similar Posts: