For the past six weeks or so, several coworkers and I have enjoyed Anaheim Chili for lunch.
Anaheim Chili is on Cecil Ashburn, just slightly up on the right after you make the turn to go over the mountain to Hampton Cove.  It's a full-service place, but smallish, seating perhaps 50 comfortably and a few more in a pinch.
This is the Texas chili plate—what I consider the signature experience: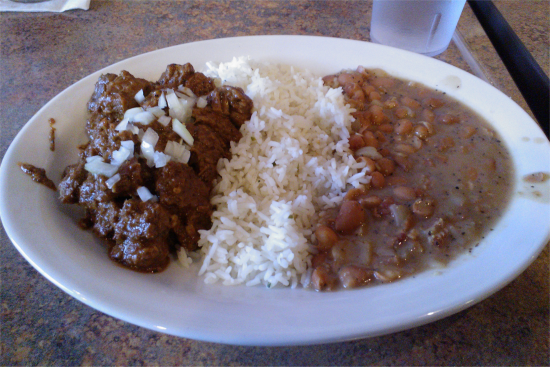 You can only get it on Tuesday, and it'd be very difficult to spend $8.50 for lunch in a better way.  The chili contains no beans or large chunks of vegetables (except the onions over the top).  The only obvious pieces are slow-roasted chuck.  It's marvelously spicy, with quite a kick for a mainstream restaurant offering.  If you consider mainstream hot sauce hot, this will roast you.  I'd estimate it at 12,000 Scoville heat units or so—two to three times regular Tabasco.  If you can handle that, it's a real treat.  The accompanying pintos are flavorful as well, and the rice makes a good buffer.
There are ten different chilis available every day.  Check out the descriptions in the chili section here.  Of those, I've tried all but the Cincinnati and the green as of now (and those will have to wait until Easter for me, as I gave up red meat for Lent).  A good way to try several at once is to get three different cups: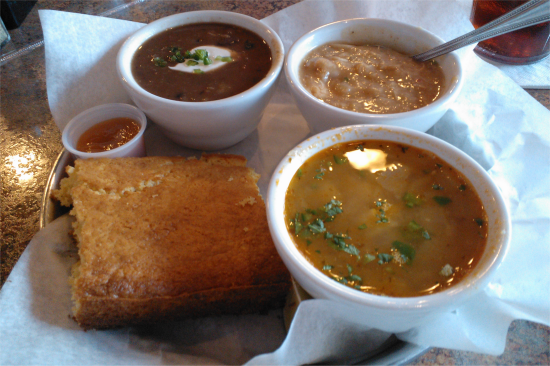 This is $9, with an extra $1 for the cornbread.  The cornbread isn't bad, but be advised it's Yankee cornbread, with a good bit of sugar in it.  (Texas toast is also available.)  Finally, insiders know to ask for the house hot sauce (the little cup at about 9:30 in the photo).  It's a mango-habanero situation that provides an excellent balance of flavor and a good bit of heat.
Anaheim Chili does offer a broader menu with burgers, dogs, and wings.  So far I've confined myself to pure chili experiences.  I'll branch out eventually.
Service has been consistently excellent.  They have a broad selection of draft beer, including several local brews.  The only knock I have on them is that when I'm at home, it's an hour round-trip to get there.  However, there is occasional rumbling on their Facebook page that makes me think a location near Research Park or even in Madison is forthcoming.  Let's hope.
If you want a lunch or dinner stop with excellent food and a big shot of personality, then Anaheim Chili is an outstanding choice.
9/10
Similar Posts: