This restaurant is no longer in business.
Madison, you have a new place for chicken wings.  Jefferson's is in the shopping center on the southwest corner of University and Slaughter, with standard sports bar ambience.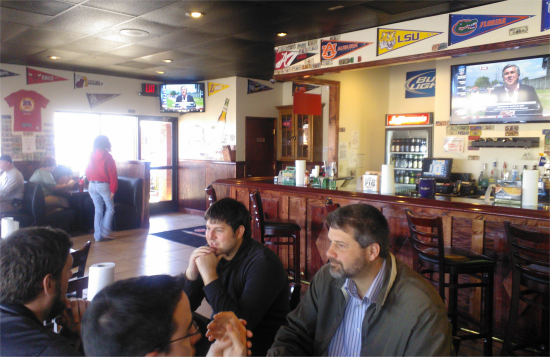 It's a regional chain.  I didn't know that eating lunch today.  I thought it was a one-off.  Most locations are in northern and central Alabama; a few are in Tennessee; and they're splashing into Illinois and Kansas.  Interesting geography.
Now I went with a favorite group of colleagues today by design, because they had accidentally discovered on an earlier visit that wings have special pricing on Wednesday.  Ten wings are normally $7.50.  On Wednesday, they are $6.00.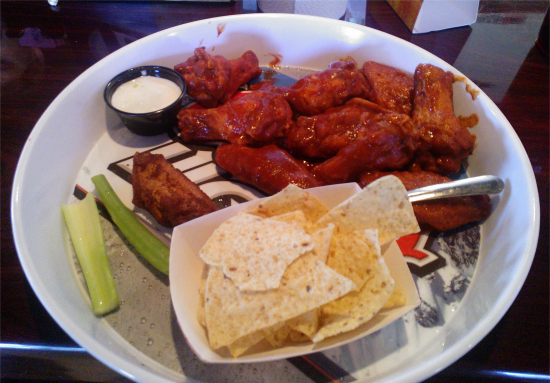 Note that wings come with tortilla chips at the standard price.  French fries—crinkles or curlies are available—are an additional charge.
My friends had told me the wings were large at Jefferson's.  I was withholding my enthusiasm, because all too often, "large" means "excessively fatty."  Happily, these were large and relatively lean.  They were cooked well and served at perfect temperature, with equal distribution of drums and flats.
It's no secret to regular BoWilliams.com readers that I like it very hot.  I asked our server what the hottest variety was, and she said Turbo.  So those are Turbo wings in the above photo, with the exception of the solo flat adjacent to the celery, which is a Double Dipped wing for which I traded from one of my friends.  The Double Dipped wings have the Turbo sauce, but go back in the fryer for a bit afterwards, so they're a bit milder.
The Turbo wings have a cumulative effect about them, but I'd only put the overall heat at a third up the scale or so.  I had a little forehead glow at about the eighth wing, but I was never desperate for a drink.  The 9-1-1 wings at Baumhower's are considerably more formidable, and the habanero wings at Beauregard's may be three or four times hotter.
There are other flavors available.  Here's a shot of lemon pepper wings: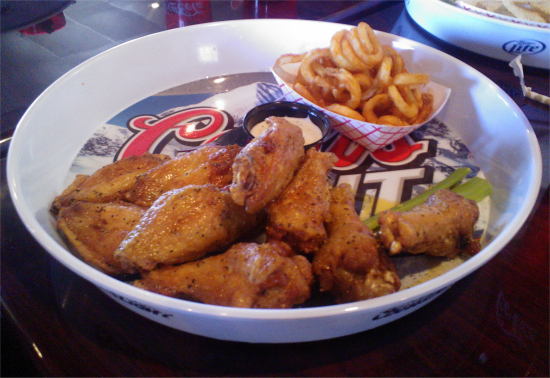 My service was fine, but it was a little sporadic in our party of six.  One of our group ordered 15 wings but received 11.  She brought five more, and relatively quickly.  But he then waited 10 minutes for the extra bleu cheese dressing he had ordered.  Even so, I'm not inclined to beat this drum too hard.  It's a single visit, and it was two mistakes at a table of six.
Lunch was an excellent value today.  I gave our server a ten and a one, which covered my ten wings, several Diet Cokes, and 26.3% for her.  (On non-Wednesdays, add $1.62 to this total.)
It's worthy.  I'll be back for a couple of the other varieties, and to increase my sample size on the service assessment.
7/10