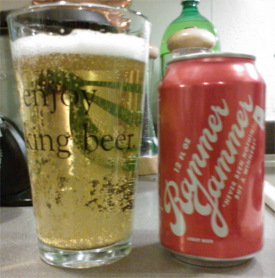 I ran into a good salesman at Fresh Spirits today.  I got my half-gallon of Yellowhammer Hop Revival, and spotted a display of something called Rammer Jammer.  Looked like soda at a glance, but closer examination revealed "LIGHT BEER" on the can.
"Folks get that for novelty, but I've had several come back and get more, saying it's pretty good," the guy said.  It was $6.99 for a six-pack.  All right.
Well, guess what?  It's straight American light lager.  It has its place—like, super-cold on a grass-cutting break, or wandering around at a music festival when nothing else is available—but I wouldn't go anywhere near "pretty good" describing it.  It's heavy on the corn (remember Red Dog?), and pretty sweet.  As you can see, it's pale yellow and clear as ginger ale.  Poured the biggest head I could with it, but it dissipated quickly, and of course there was no lacing.
The label reveals that it's actually brewed and packaged by Minhas Craft Brewery in Monroe, Wisconsin, for Rammer Jammer Beer Company in Birmingham.  It also reveals that it's 4.2% alcohol by volume, and 90 calories a can.
Skip it.  It's just mainstream American beer, and if that's your thing, you can spend less money than this.
4/10
Similar Posts: