Hardee's makes a sustained effort to present itself as a good place to get premium burgers that just happen to have fast food prices. The commercials with the perfectly dropped, impossibly fresh sandwiches, topped off with a strategic drip of whatever super-delicious sauce is present, are a novel take.
They do their job well too, apparently, because I tried the Jalapeno Turkey Burger today as a direct result of seeing a commercial for it. It's a turkey patty on a wheat bun, with pepper jack cheese, jalapeno slices, "Santa Fe sauce," lettuce, tomato, and red onion. It packs either 450 or 490 calories, depending on whether you believe the web site or the in-store signage, which differ for some reason. So, not a diet item, but it does undercut the traditional flagship beef burger offerings by a bit.
My burger was neatly wrapped, warm, and recently prepared, if rather less attractive than the television spokesburger: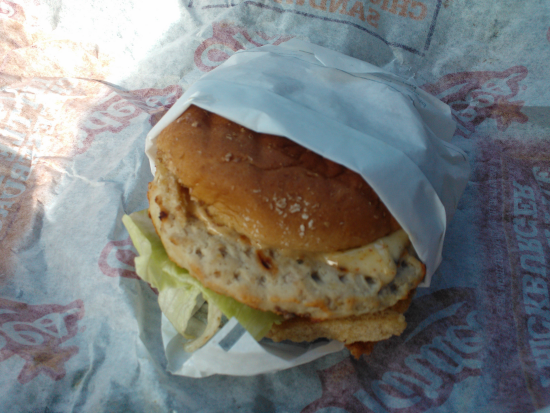 The Santa Fe sauce is perhaps more appealing when you don't get the full visualization: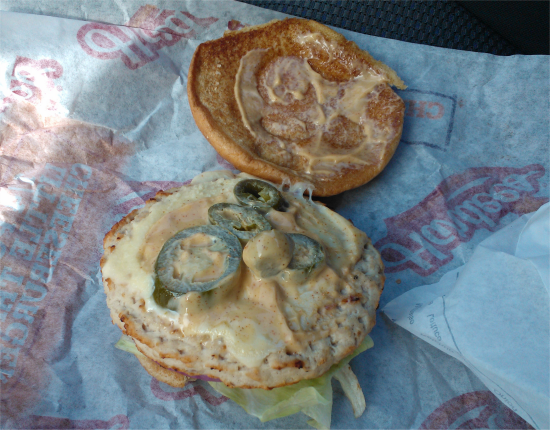 The turkey patty was moister than I expected, and I also like that it didn't try to taste like anything but turkey.  This was followed quickly with appealing heat. This sandwich has a fair amount of burn for a fast food item, so those with mild tastes, be advised. The sauce adds a little tang, in addition to the heat. It's a tasty combination.
The lettuce and tomato add little, but that's not really the fault of Hardee's. Taste was bred out of wholesale tomatoes a decade or so ago. The red onion works nicely with the warmth from the peppers, sauce, and cheese to keep things interesting throughout the bite.
I enjoyed my Jalapeno Turkey Burger, and it's a reasonable value at $3.49. I can't see it igniting any sort of insatiable craving in me, but I'd get it again.
7/10
Coda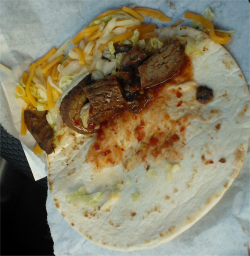 Rather than fries, I decided to try a bit of the newly available "Mexican" fast food at Hardee's, available at locations co-branded Red Burrito.
The soft steak taco looks a lot like a Taco Bell item. It was hot, prepared right when I ordered it.  The steak has an appealing seasoning with notes of black pepper, garlic, and cumin, and the ingredients all tasted fresh. It was good, though a bit steep at $2.09. Nevertheless, I feel encouraged to try Red Burrito's offerings further.
Similar Posts: