I've been to Mango's Caribbean Restaurant twice now—once with Saintseester (who introduced me to the place), and today with Melanie.
Both times, I was adventurous.  The first time, I had braised oxtail, which is like meat candy.  It was absolutely delicious, though considering the long time that it sated me, I suspect quite heavy.  Today I had jerk chicken and curry goat: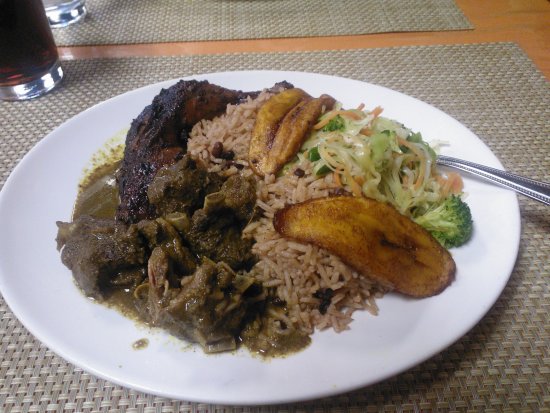 It was tasty as well.  That's the jerk chicken in the northwest, and the curry goat in the southwest.  This is served with standard accompaniments of rice and peas, cabbage and broccoli salad, and fried sweet plantains.  I don't think I've ever eaten goat meat before today.  I liked it, though it was very highly seasoned, so I'm not sure today was a good evaluation.  Texturally, it reminded me of beef.  In fact, if you'd told me that's what it was, I'd have likely accepted it as truth.
Mango's is just west of Five Guys, adjacent to Research Park and just off University Drive.  The strip is a little unfortunate in that it faces east, which means you kind of have to know about it to go.  But hey, now you know about it.  So go.
Service was timely, polite, and executed by gorgeous Caribbean women on both of my visits.
These are the only two authentic Caribbean meals I've ever had, so I'm not calling this a review, and I'm not giving a rating.  I'll just say that my impression is that this is a delightful step off the path for lunch.  It's likely a different taste for you, and the logistics are well executed.  Check it out.
Similar Posts: