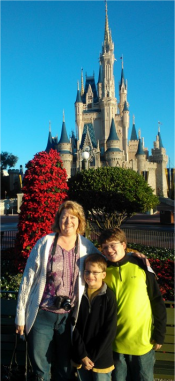 Took my first trip to Walt Disney World last week since 1997, and I'm just now blogging about it.
Well, that's not quite true.  I put a practical post up at Tennessee Valley Moms Network a couple of days ago.
In any case, I apologize.  I have envisioned for days a post at this blog that you're not going to get.  Most of the reason is that tons and tons of Disney World information is out there already for you, and I have no interest in replicating it.  I'll give you some bullets; how's that?
From my house, it's 687 miles going I-65 to Montgomery; 231 to I-10; and I-10 to I-75.  It's 700 miles coming back I-75 to Atlanta; I-20 to Birmingham; and I-65 home.  We'll use the former route going and coming next time, not so much because it's shorter, but because it's more interesting.  The 231 stint is restorative.
I highly recommend you follow the tips I outline in my post above.  You'll have a better vacation and, by extension, a better life.
The most important tip, for your happiness, is to stay on the property and use the consistently excellent Disney transportation system.  There is something incredibly satisfying about parking your car when you get there and not touching it again until you leave.
In our experience, here are the things you should FASTPASS.  At Magic Kingdom:  Space Mountain, Splash Mountain, and Big Thunder Mountain Railroad.  At Animal Kingdom:  Kiliminjaro Safaris, Expedition Everest, and (possibly) Dinosaur.  At Hollywood Studios:  Toy Story Midway Mania!, Rock 'n' Roller Coaster starring Aerosmith, and Twilight Zone Tower of Terror.  At Epcot:  Soarin'.
Of the previous, the two totally ridiculous attractions are Toy Story Midway Mania! and Soarin'.  These are the ones for which you should 1) be there when the gates open; 2) run to the FASTPASS kiosk and get them; and 3) get in line immediately after so you get to ride it twice.  The waits for these hover between an hour and two hours all day long.
The Tower of Terror has incredible production design, but head to head, the OH-Zone! at Lake Winnie is much scarier.  Seriously.
Narcoossee's is a top-notch dinner experience and absolutely worth your dining plan points and/or dollars.
Disney's control of your experience is near-legendary.  I had an interesting window into that.  A 15- or 16-year-old kid decided it'd be a good idea to duck under a rope to get in the Expedition Everest line.  The overseeing cast member politely admonished him and directed him to the end.  So—totally trivially—this kid walks to the end and ducks under the rope again.  The cast member blocked his way and raised his voice slightly, and as he did, some guy from the nearby crowd walked swiftly to the encounter and said "do we have a problem here?"  This was just some guy in a ball cap and sunglasses, dig?  Uh, no.  Disney employee watching you.  Heh.
Animal Kingdom is the biggest park, but I think Magic Kingdom is the most complex.  If you're going to spend any time making a highly detailed plan, do it in Magic Kingdom.
It's such a great time.  You'd think if I'd be cynical about anything as a consumer it'd be the Walt Disney World experience, but I won't criticize it.  They do it well enough that I'm pleased to submit to it.
Boys had a blast.  Parents had a blast.  We're thinking 2015 for the next trip down.
Similar Posts: