The cover sticker on the 20th Kiss studio album Monster, released on Tuesday, reads:
NO FILLER · NO BALLADS
JUST FULL-THROTTLE ROCK 'N ROLL
Concur.  There's not a bad song here, and there are no prom night weepers either.  You want a capsule review, then there it is.  You can stop now.  If you want more, read on.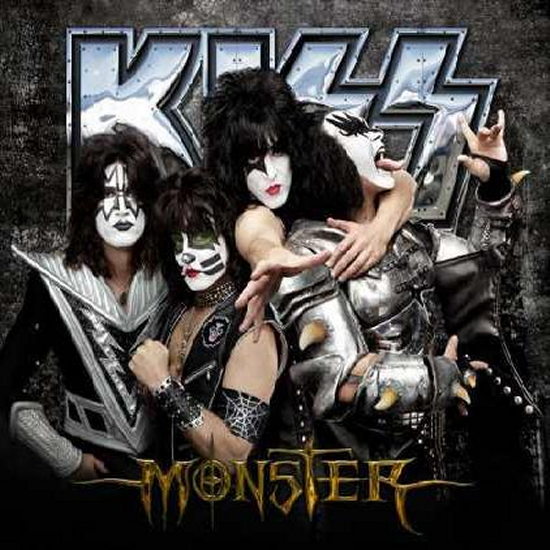 This cover sticker is also true of 2009's Sonic Boom—neither a bad song nor a ballad there either.  I think comparisons between these records are appropriate and inevitable.  For one thing, it's the same lineup.  For another, both records were made with a genuine, all-in band approach likely not realized since the very first Kiss albums, made most of four decades ago.  I dug Sonic Boom.  Do I dig Monster?
I do.  It surprises me how different it is from its predecessor, though.  This is not Sonic Boom II.  This is a heavier, somewhat less melodic record that still exhibits a lot of care in its craftsmanship.  Monster might be a little less accessible on a first listen.  (Of course, history has taught me this means it may stay with me longer.)
I was also thrown off a bit by the advance single "Hell or Hallelujah."  I thought Sonic Boom's advance "Modern Day Delilah" was a middle-of-the-pack song on that record, whereas "Hell or Hallelujah" is one of the stronger cuts on Monster.  I think I implicitly assumed its relative position would be similar.  Consequently my expectations of the record may have been a bit elevated going in.
That's not to say there isn't a lot of great stuff here.  Monster never leaves the realm of straight-ahead hard rock, but still delivers a modicum of complexity within that framework.  Some cuts, like "Hell or Hallelujah" and "The Devil Is Me," could have fallen right off Rock and Roll Over or Love Gun.  They're only given away by modern production.  "Wall of Sound" is built almost entirely on a single riff, but it's a crank-it-up-and-giggle good riff.  I also love the irreverence of appropriating this title.  I read it immediately as a subtle jab at rock 'n' roll's self-proclaimed "elite."
There's a little AC/DCish teaser in "Take Me Down Below."  "Eat Your Heart Out" isn't quite as clever as it thinks, but it's still a fun singalong.  Eric gets a better match for his voice this time around in "All for the Love of Rock and Roll," which somehow manages to evoke both a classic 50-years-ago boot-stomp and Asylum's "Secretly Cruel."  The second single, "Long Way Down," flirts with being too layered to suit me, particularly in the verse, but it's one of my favorite choruses.  Love those licks in the break, Tommy.
Speaking of, I think Tommy Thayer comes a long way toward adding something distinctive of his own to the gestalt of the Kiss lead guitarist on this record.  If he got a knock on the last record, it was generally that he was still doing an Ace impression.  I think that charge evaporates here.  He lays down a lot of rich stuff in solos and rhythm countermelodies throughout.  Furthermore, I think "Outta This World," which he wrote and sings, is one of the best cuts on the record.  During my first straight-through listen, it punched me in the face.  Good work.
Of course, this whole experience is also one of making peace with the fact that you're listening to a new Kiss album in 2012.  (Sheesh, I can remember thinking Crazy Nights must be close to the end.)  One of my very first posts on this blog was about seeing Paul on his solo tour, and I said then that if the product remains of high quality, then there's no such thing as "too old."  That's still where we are, dudes and dolls.  Gene's 63.  Paul's 60.  Eric's 54.  Tommy's 51.  The record shreds, so that's not too old.  Dig?
"It feels good…"
This is a slam-dunk pickup for any Kiss and/or hard rock fan.
8/10
Similar Posts: