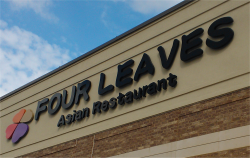 Yes, I just posted a restaurant review two days ago.  No, BoWilliams.com is not turning into a restaurant review blog.  (I suggest my friend Amanda's excellent The Dining Dragon for that.)
I have written another one so soon because Lea and I left the house this morning just knowing we were going to lunch, but not knowing where.  We were driving toward Providence, when Lea looked north to the Kroger shopping center at 72 and Jeff and said "what's new in there we haven't tried?"  Spotted Four Leaves Asian Restaurant with an Open sign, and it got the nod just that quickly.  When we went in, we found out they had literally just opened (as in less than half an hour earlier, they opened their doors to the public for the first time).
So, have to do a review, right?  Seems reasonable to question whether a restaurant's true maiden voyage will be representative, but it'll certainly be topical.
The trend toward places identifying as "Asian restaurants" strikes me as a bit unfortunate, and maybe even vaguely "ugly American."  There are large differences between the various cuisines typically found under such an umbrella.  It doesn't really make any more sense than a place calling itself a "European restaurant," with schnitzel, ravioli, and haggis on the menu.  But, it is what it is, and this is a fine example.
Four Leaves is a full-service restaurant with a menu featuring Chinese, Thai, and Japanese selections, including sushi.  The decor is impressively sumptuous.  Call it Far Eastern modern, with excellent use of space and novel lighting.  Someone or a group of someones spent a lot of time and effort designing the interior.  Booths, tables, and a bar are available.  It's luxurious enough to be a good date night place, particularly when they get their liquor license (expected November 1).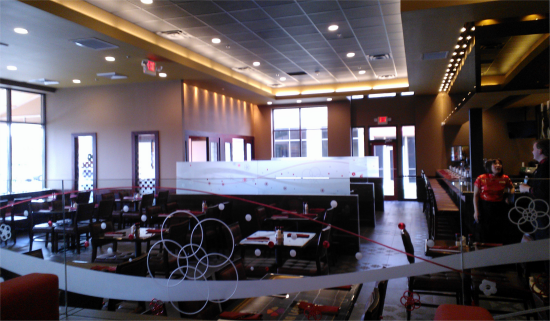 Lea and I each decided to have a lunch special.  She chose the kung pao chicken with white rice; I, the General Tso's chicken with brown.  We both selected hot and sour soup, which arrived promptly.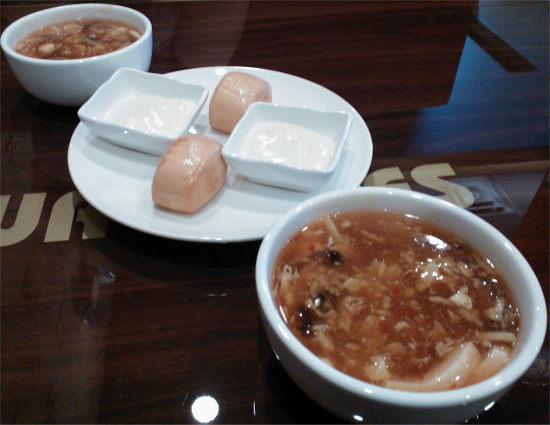 The soup, served steaming, was tasty and appealingly spicy.  It was on the thinner side, but still within tolerance, I'd say.  A distinguishing touch is that it was served not with a bowl of crunchers, but with two small rolls and two dishes of a mildly sweet sauce that reminded me of the "yum yum" sauce at a teppanyaki place.
Our entrees followed about ten minutes later.  Presentation was lovely, with rice delivered in separate dishes.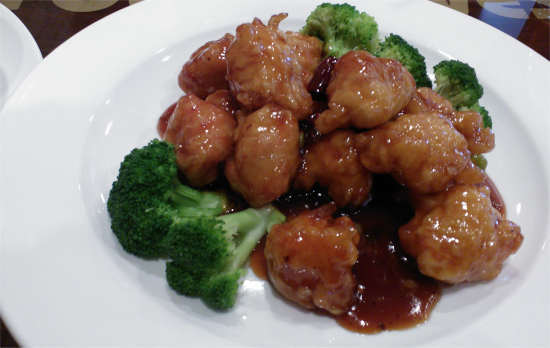 My General Tso's chicken was served with freshly steamed broccoli florets, and chopped Chinese hot peppers that were cooked just enough to be tender.  (Most places botch this detail.)  Lea's kung pao was finer, sacrificing some aesthetic punch for practicality.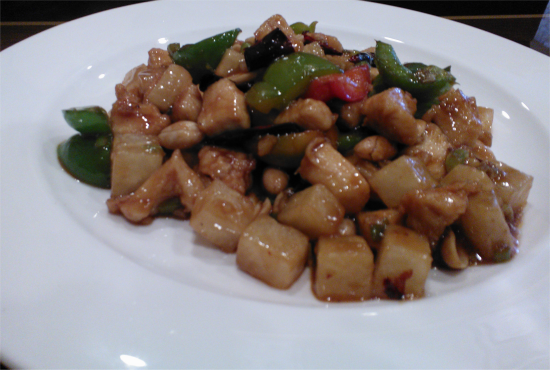 Flavors were fresh.  Seasoning was consistent, and neither excessive nor wanting in its application.  Lea and I both enjoyed our lunch.
Now I realize we're not exactly out on a culinary limb here.  This is mainstream American Chinese food, and any crimes committed with such tend to be consistent.  One big one is excessive oil, and I'm pleased to report that neither of these dishes exhibited the problem.  We left satiated, but not with that unpleasant, weighted down feeling.
Our server was attentive, but not hovering.  The manager came and personally welcomed us, and told us he'd love to have us back.  For our two lunch specials, two iced teas, and 20% for our server, our bill was $24.
Four Leaves is close enough to Research Park, and the service speedy enough, to make it a reasonable lunch destination.  As I said earlier, it looks to be promising for date night as well.
Call my rating provisional, given that we visited on the very first day they were open.  I'll seek to confirm it in another month or so, perhaps trying a different area of the menu, and follow up this post with appropriate comment.
8/10
(Note:  Please also read my follow-up review of this restaurant.)
Similar Posts: