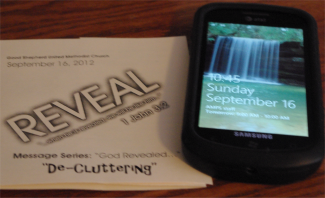 At our church's first Reveal service this morning, Eric spoke about mental clutter, and how hard it really can be to "come into the room."  When we worship, are we really giving ourselves to God?  Are we opening our hearts and minds to hear what He really has to say to us?  Or do we have convincing trappings and rituals that fool us into thinking we're doing that?
The first time I visited the Tennessee Aquarium, I didn't take a camera.  I knew that if I had one, I'd try to document the experience, rather than have the experience.  And documenting the experience has become rather seductive, hasn't it?  Do you do something so you can put it on Facebook and Twitter?  Or are you putting it on Facebook and Twitter because you did it?  I think we'd almost always like to say we're doing the latter, right?  But there's this sort of pseudo-validation after something's been social-mediafied, isn't there?
A lot of drugs mimic something that naturally occurs and has some purpose in the body.  When the drug is introduced, the body either outright prefers it or takes up enough of it to make a clinical difference, and that's why it's effective.  I think our minds are doing the same thing with social media.  We spend time on this site or that, checking each other's dipsticks.  Then, we leave with the sense that we've done something, because it feels like we've used our brains, when a lot of the time we've operated very shallowly.
That's the clutter I've had the hardest time clearing.  It's almost like a sugar high.  It makes me feel like I've engaged meaningfully, so I'm not as motivated to write something more considered, whether it's personal correspondence, political commentary, or whatever.
I haven't thought about whether, and to what degree, I'm doing that when I worship, so I appreciate the invitation to consider it.  I feel good at church.  I enjoy the song, the prayer, and the message.  I enjoy the community.  I believe I carry my worship experience forward into my week.
But am I genuinely coming into the room?