For years, the State Department has produced Background Notes on the countries of the world.  I enjoy this service.  I once wrote an entire blog post praising it.  Quoting myself:
Its Background Notes section gives all of the hard facts you could ever want on any country:  flag, map, major cities, terrain, climate, languages, religions, literacy, major industries, form of government, and so forth.  But it also gives history, current sociopolitical conditions, American relations with the country, and the like.

Moreover, it's well written and consistently presented (which is where something like Wikipedia falls down, particularly on the latter).
I consider it the easiest, quickest, most consistently high-quality source for information on different countries.
So they're not going to do it anymore.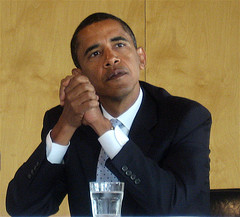 I found out in The Corner (who found out from The Heritage Foundation) just now that they stopped actively maintaining the Background Notes in May, and are in the process of replacing them with what are essentially Obama campaign commercials.  They're all about what our esteemed president has done with the country.
Check out the difference.  Here is an older (good) one on Brazil.  And here is the current one, much of which directly discusses President Obama.  (Because, you know, all meaningful U.S. history began shortly after noon on January 20, 2009.)
Remember when he did the same thing to the biographies of the U.S. Presidents on the White House web site?  (I mean, how could we possibly understand Franklin D. Roosevelt or Ronald Reagan without Barack Obama comparing himself to them?)  Is there any doubt that this is the most narcissistic president ever?
Had enough?