Because I am pro-business, pro-First Amendment, and pro-tasty sandwiches, I had breakfast at the Madison Chick-fil-A today.  Here's my view before 6:30 this morning (ninth car back):
Glad to get in first thing.  Shortly after noon, Madison police were actively warning people off the area because traffic was backed up in both directions.
Because we are pro-business, pro-First Amendment, and pro-tasty sandwiches, Terri and I met at Parkway Place for lunch at Chick-fil-A today: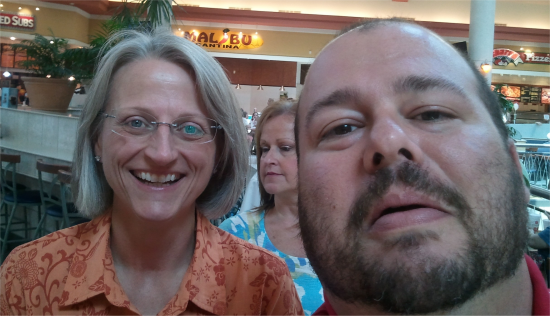 (At least the photo is good of her.)
I feel compelled to say again that I have supported same-sex marriage for decades, and continue to do so.  It is eminently possible to hold this position and still detest the attempted assassination of Chick-fil-A by true enemies of liberty (and that is exactly what they are).  That millions of people disagree does not make them thoughtless, unreasonable, and/or hateful.  I'll be happy to explain that further if you need it.  Just let me know.  (Incidentally, during our extensive visiting today, I met exactly one person who had anything to say about gay marriage.  Most that I encountered were there for the same reasons we were there.  Remember that when you read the news.)
There were three lines feeding into four registers.  Here's our view: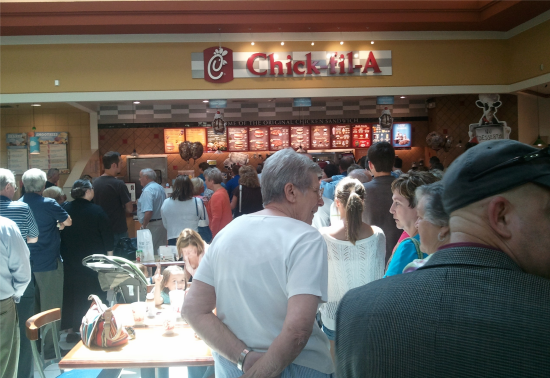 It took us about 40 minutes to be served after getting in line.  Maybe 10 minutes into it, I counted right at 200 people waiting.
Immediately after getting my food, I got back in line to get a photo of that view: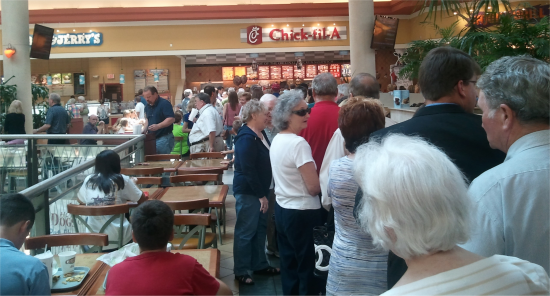 Now there are 300 people waiting, and that's about as large as it got.  The Huntsville Times said "over 100," which is piss-poor reporting.  It didn't take me that long to count them.  Here's a wide shot of the crowd at its largest that I saw (and remember, there are three total lines of roughly equal length; you only have a decent view of the middle one here):

Looks like I spent $23.79 with Chick-fil-A today (that's my breakfast and lunch, plus the couple behind me in the drive-through at breakfast this morning):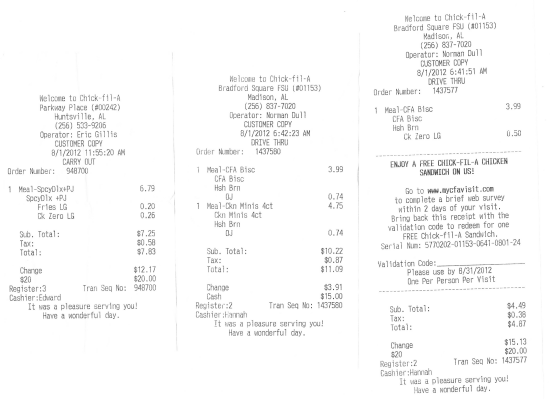 Hey, I have a free sandwich coming too!  Excellent!
I loved this from David French today:
What is remarkable about the Chick-fil-A controversy is the extent to which the company's entire portfolio of work, its excellent food, welcoming environment, extensive charitable interventions with at-risk families and youth, are nothing but ashes and dust unless Chick-fil-A gets on board with a sexual revolution that places self-indulgence (and defense of that indulgence) over every other cultural value. In other words, no matter your other virtues, in the eyes of the far Left you are a moral monster unless you get with the sexual program.
I've had enough mindless jackass liberal outrage.  I've had enough intolerant leftist bullying.  I think a lot of people have.  There are civil ways to disagree and discuss differences, and by and large, it's not conservatives who can't (or won't) remember that.
I think there's a significant vein of that sort of "fed up"-ness  in today's activities, in addition to the First Amendment issues.
Good hanging with you today, lovers of liberty.