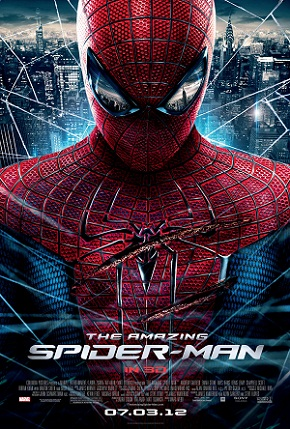 (No spoilers.)
The boys, my nephew Chris, and I saw The Amazing Spider-Man at the late morning matinee.
It is a reboot, completely ignoring the Sam Raimi/Tobey Maguire Spider-Man movies.  I'm not sure exactly why those stopped, but I presume it wasn't any perceived weakness in the films themselves, because they were and are fine, you know?
In any case, here we are with a new Peter Parker, a new Uncle Ben, a new MJ named Gwen, a new bad guy, and so forth.  The trappings are all very familiar, with minor differences here and there from the previous films' universe and resident narrative.  I know nothing about what constitutes comic canon, so I can't comment on that angle, but none of it offends on its own merits.  I did notice that the Daily Bugle office and J. Jonah Jameson are totally absent from this film, so I guess Parker isn't freelancing for them/him anymore.  (Or "yet," maybe?)
My biggest irritation with the previous series was how chatty Tobey Maguire's Spider-Man was with himself.  He was all the time babbling about something, even in the middle of a big fight.  Andrew Garfield's Spider-Man is markedly better in this regard, and what he does say tends to be less corny.
Indeed, it's a strong cast all the way around.  Garfield and Emma Stone have convincing chemistry.  Denis Leary and Martin Sheen kill in supporting roles.  Rhys Ifans does a good job scaring you and garnering sympathy as a tragic villain.  C. Thomas Howell sneaked up on me very appealingly.  Sally Field isn't given much to do, but she's there too.
It's a tad long at a deuce and a quarter, but it uses it well.  The back story is unrushed, but never lethargic.  There's a solid mix of action-setup-action in the second half that avoids the trap of too much in-your-face for too long.
It's an enjoyable superhero movie with no significant flaws.  I still can't quite avoid a bit of a "whatever" sentiment because it was unnecessary, but in all respects it should be a fine foundation for two or three sequels.
7/10
Similar Posts: