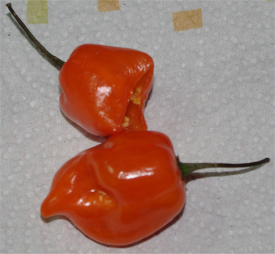 Publix had some pretty habanero chilis recently.  They were $5.49/lb., which makes them about a nickel apiece.  I picked up a few.
As much and as long as I've enjoyed spicy foods, I've not ever handled any fresh super-hot peppers, and at 100,000 – 350,000 Scoville units the habanero qualifies.
I had a good time.  I wanted to eat some of it raw, but I wasn't sure I could do a whole one.  So, I cut half of one, chewed it up, and swallowed it.
Now that's a pretty good ride!  I love the stronger habanero sauces like Marie Sharp's, and the fruity blast of the raw pepper coupled with the strong heat made for a visceral shot.  Interestingly, the heat in my mouth and throat was intense, but short-lived.  Most of the "wow!" came from my forehead being on fire for ten minutes or so.  I finely chopped the rest of the pepper and added it to my sweet and sour chicken.  It was delicious.
It was in that fine chopping that the unexpectedly more interesting part of the experience began.
Recall I said this was my first time handling raw, super-hot peppers.  Well, guess what?  You should wear gloves when you do so.  If you don't, then the juice gets on your fingers and stays there.  And it's hot.  It survives even vigorous hand-washing because it's not water-soluble.  I read something about vegetable oil, so I tried that.  Didn't work.  Tried isopropanol.  Nope.  I may have just waited too long, and now it has to wear off.
Taking my contacts out last night was quite the adventure, as was trying to put them in this morning.  (It's a glasses day—my first in months.)
(And the less said about my first post-habanero-chopping trip to pee, the better.)