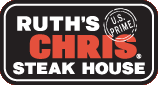 Last night was our first date night in some time.  Lea and I visited Ruth's Chris Steak House, inside the Embassy Suites downtown, where you just kind of wander into it in the lobby.
We've had our Ruth's Chris in Huntsville for five years or so, and I'd heard about it probably that much longer again on talk radio, but neither of us had ever been.  I accidentally selected the same night Ron "Tater Salad" White was in town, but our reservation and valet parking effectively mitigated any pain there.  We checked our coats and were seated promptly.  There are no continuous walls separating you from the hotel lobby at large, but the space is designed thoughtfully enough to provide suitable intimacy.
So the signature touch at Ruth's Chris is that its USDA prime steaks are served to you at a temperature of 14,000,000,000,000,000 degrees.  (OK, it's really "only" 500 degrees Fahrenheit, after having been seared at 1800 degrees, but still, when she says "hot plate," she means it.)  They sizzle at the table because they're bathed in a tablespoon of butter.
The other thing to know is that Ruth's Chris side dishes each serve two to three people.  I'm sure this works well in a group of four or more, but for two, it essentially means you have to be on the same page for your potato and any vegetable accompaniment.  This seems needlessly constraining, but we dealt with the limitation mostly satisfactorily.
Lea and I are not big wine drinkers, so we didn't spend any time with the impressive-looking list.  I was a little surprised that not only was there not anything comparable for available beers, there didn't seem to be a listing of any kind anywhere.  Our server Jay assured me that they had "pretty much anything domestic," so I settled on a Sierra Nevada Pale Ale, which arrived promptly with a chilled glass.  Unfortunately, it was the last one in the restaurant, so I wasn't able to continue with it.  Failure to inform me of this in time to change my selection was the only (minor) service offense of the evening.
(And a switch to Sweetwater 420 Pale Ale isn't a bad jump.)
Our appetizer of crab-stuffed mushrooms arrived perfectly halfway through the Sierra Nevada.  The four golf-ball sized portobellos were tasty enough to hold our attention without being distracting.  I also appreciate interesting flavors that don't rely on salt overload, which has (sadly) become the norm for appetizers.  These delivered nicely.
For dinner, Lea selected a New York strip, well done, while I had the filet, medium-rare (and that's a stock Ruth's Chris photo and not one of my particular steak, but it could be).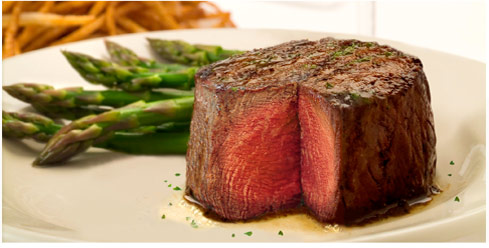 These came out sizzling as advertised, accompanied by the garlic mashed potatoes and fresh asparagus we had selected.  After making a joke about being careful not to touch our tongues or ear lobes to the plates, we began.
Now given the shtick and the price, the steaks were going to have to be memorable, and they delivered.  They were very high-quality cuts, cooked perfectly to order and with only the subtlest seasoning of salt, pepper, parsley, and the aforementioned butter in order to better showcase the corn-fed flavor.
I haven't kept a list of the best steaks I've ever had, but there was absolutely nothing to complain about with this one.  I hadn't even a minor gripe with its quality.  I'm certain it was a 90th-percentile steak for me; I think it might have been 95th-percentile.  I cut it with my fork.  The flavor was marvelous and long-lived.  I started taking slightly smaller bites as the steak diminished on the plate, just so I'd have one or two more.
The asparagus was fresh, flavorful, and accompanied with hollandaise.  It was cooked just a bit more than I prefer, with only a slight crispness, but still well within reasonable expectations.  The garlic mashed potatoes were tasty, with only an occasional lump to assure authenticity, and (again) no salt overload.
For the close, Jay set a mountain of chocolate mousse pie between us, which was creamy, delicious, and artfully presented.  We managed about two-thirds of it, I think, and I enjoyed an excellent French press black coffee with it.
The service experience, start to finish, was excellent.  The meal was paced perfectly.  Jay was polite and genuinely conversational (and I really dislike that rehearsed, straight-from-corporate-training quality there is to far too much server communication anymore).  He, the hostess, and the valet all greeted me by name.  It was all warm and attentive, with a good understanding and avoidance of what grates.
If you know anything else about Ruth's Chris, you know that we're not talking about the Golden Corral budget-wise.  Now I think I paid a little bit more one time in Destin, but this visit definitely joined my American Express hall of fame for a single meal for two.  With a shared appetizer, three alcoholic beverages, and dessert and coffee accompanying our steak dinners, and adding a 20.1% tip for our server and a fiver for the valet, the start-to-finish experience checked in at $184.
Now eating out is a luxury in the first place, so I'm not going to say that's too much.  It's a pleasant evening at a premium restaurant, and that's what that one cost.  Our previous closest analog is probably Pauli's, and I'm now interested in returning there soon for a head-to-head.  (I'm reasonably sure I remember that a comparable visit is 20-25% less there.)
Nevertheless, we enjoyed ourselves very much, and I suspect we'll return occasionally.
8/10
Similar Posts: