I am well pleased with the final score of the 2011 Iron Bowl.
Alabama's domination of the line of scrimmage was severe and relentless.  Auburn was never a threat to win the game.  I'd have loved any victory, of course.  But I really love being in a position to pick style nits, like arguing about whether and to what degree Auburn's touchdowns were gifts.
And oh, my, was that final Trent Richardson run a jewel.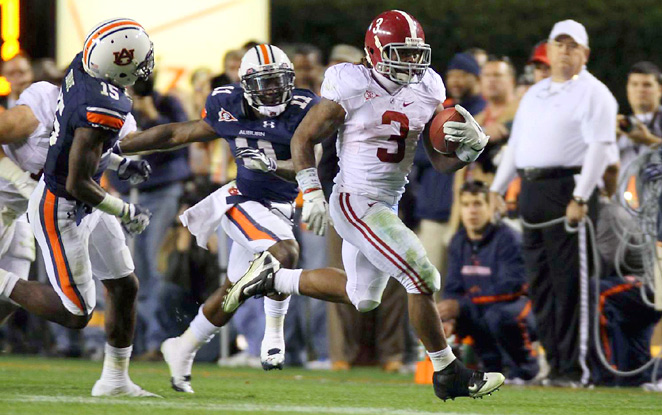 Now, unlike far too many Auburn fans who honk like geese whenever their team manages to claw its way out of mediocrity for a year or two, I'm not much of a rubber-inner.  Superficially, this makes me appear polite.  Except then you learn that I'm not making a big deal of it primarily because I regard it as restoration of the natural order, which might make me one of the biggest jackasses of all.  (I don't lose much sleep over you thinking that, by the way.)
This evening I have very much enjoyed my Twitter feed filling with #WDE coulda-shoulda-woulda.  (I'm particularly savoring the bloviations of one who is on and on about how Alabama plays dirty, when she sounded ready to have Nick Fairley's children last year.)
As to whether Alabama should get a rematch against LSU:  ladies and gentlemen, the way it works is the way it works.  Is the BCS authoritative, or not?  If so, we all have to be beholden to it and quit picking at it.  And clearly we're not, and clearly we haven't.  Wrote about that before.  Fortunately, "they" are deciding pretty much as we speak how it should go in the future.  I do find it incredibly ironic that all this talk is going around about the voters essentially deciding for or against, when one of the big selling points of the BCS to start with was reducing human subjectivity.
I also think it's quite clear that this year, there is LSU, Alabama, and everyone else.  Do you put the two best teams in, or not?  If not, what's your rationale?  Spite?
Wherever Alabama goes, I'll pull for them mightily.  If it's not the title game, I shall do so without grousing.  (It does, after all, still remain that had they not lost, there would be no such debate.  More importantly, the terms are known, and those terms have a big human factor.)
Roll Tide, my friends.  Auburn, 'preciatcha.  What say we do it again next year at our house?
Similar Posts: