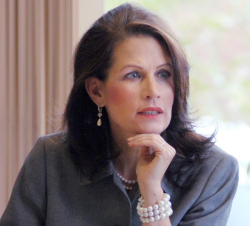 So Michele Bachmann's in.  She's running for President of the United States.
By the way, she has a vagina.
Oh, and Sarah Palin has a vagina, too.
Now, because both Michele Bachmann and Sarah Palin have vaginas, they can't possibly both run for the Republican nomination.  Right?  I mean, I missed the directive.  I am 40 now, and a little slow on the uptake sometimes.  But it's clear that it's there, because probably two-thirds of the time when I read about Bachmann officially declaring, there's some sort of coda along the lines of "hmmmm.  This is intriguing.  Will Sarah Palin run, now that Bachmann is in?"
What is that?  Could it be a liberal media obsessed with identity politics?  When do we see the editorial that pines "you know, it's a shame one of them isn't a little butch or something so we can tell them apart"?
Or "how can the Republicans be expected to choose between two girl candidates?"?
Similar Posts: