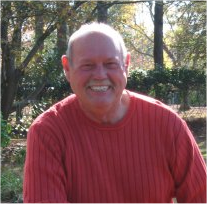 Jerry Gray taught me world history when I was in the tenth grade at Oxford High School.  He's one of the first people I remember meeting who had a truly staggering amount of knowledge in his head and at the ready.  He never used a written plan or a book when lecturing; he just talked.  It was conversational, but slow enough for you to take notes.  I did very well in his class; better than in any other history class I ever took, I think.  It was a pleasure to listen to someone so enamored and in command of his subject.
I was pleased to run into Mr. Gray again on Facebook a couple of years ago.  We exchanged messages, and I was delighted that he remembered me fondly.  It was satisfying to have an adult relationship with him, however casual.  I'm certain I'd have enjoyed hanging out with him once in a while, had we been more geographically convenient to one another.
He was a warm, witty man, who never left anyone he touched with anything but positivity.  He raised two beautiful and accomplished daughters.  On Saturday night, he got married.  And Sunday morning, he didn't wake up.
You know, some things just suck, and that's one of them.  I will never be convinced that there is any sense to make of such.  It just is.  I don't struggle with this kind of thing being part of "God's plan" any more than I struggled with my father-in-law's brutal, undeserved decline being such.
I wish comfort and peace to his wife, his daughters, everyone else close to him, and the many thousands Mr. Gray touched as an educator and friend in his 69 years.  RIP.
Similar Posts: