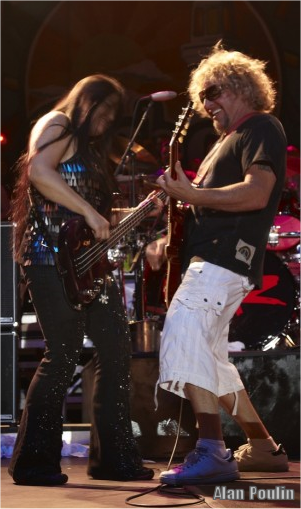 I always liked Sammy Hagar all right in my early adolescence.  MTV played "Three Lock Box" and a live "Your Love Is Driving Me Crazy" a lot, and then "I Can't Drive 55" was impossible to escape.  When he joined Van Halen, I dug 5150 top to bottom.  Still do, actually.  Marvelous record.
Then I started running with Charles in 1987, and he was a real Sammy fan.  He played the Montrose records for me, and a lot of his early solo stuff.  It was nice to have that bottom to the story.  Sammy was a working-class kid made good, so it was easy to like him.
I borrowed Red:  My Uncensored Life in Rock from Charles, and read it last night.  You can take three hours and enjoyably knock it out.  You get the childhood, early bands, Montrose, the solo early career, the mature solo career, Van Halen, Cabo Wabo, the Waboritas, and Chickenfoot, backdropped with the emotional ups and downs of what's definitely been a wild ride.  It's skillfully and humorously told.
Of course, the subject with the widest appeal here is going to be what happened in

Van Halen.  Sammy tells a story that paints himself mostly in a favorable light, which is to be expected.  But the restraint with which events are narrated lends a lot of credibility, and I certainly didn't read anything I thought was inconsistent with Eddie Van Halen's public behavior since the mid-1990s.  I never got even one "aw, come on."
Just have a look at Sammy and Michael Anthony today, and another at Van Halen today.  Where would you say the adults are?
The story of his first wife Betsy underpins the first three-quarters of the book.  I felt for him when she wasn't well, and then I was a bit mad at him for not closing that chapter of his life sooner.  He says he did the best he could, and probably, he did.
I wish he'd been a bit more explicitly cautionary about drug use.  Though I think we're long overdue for an extensive dialogue and attitude adjustment on drugs in this country, it's still a serious topic, carrying a bit more consequence than many other things.  I thought he passed up a couple of opportunities to expound on that a bit.  Perhaps he is relying on the negative outcomes of most of his narration in that vein.
It's sex, drugs, and rock 'n' roll, but with more than enough humanity to hang it all together, and even warm your heart a bit.  I never saw Montrose, of course, and I never saw a pre-VH solo show.  But I've seen and heard everything else he's ever put out there, and I'll keep doing so.
Good book, Sam.  Nice to have you around.
7/10
Similar Posts: