I visited BamaDan's house today, where I tried hard to be supportive but was mostly useless.  (Tough to be anything else at a time like this, on both counts.)  This is the view from his sunroom, looking more or less west.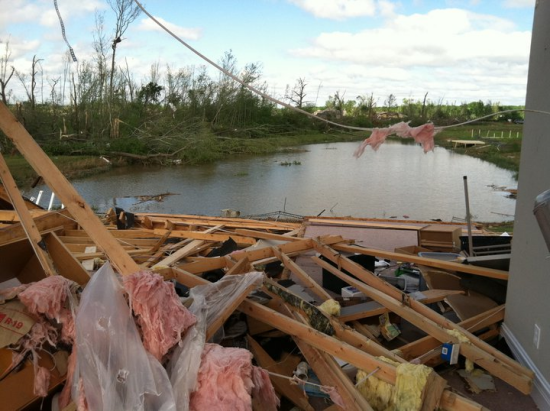 We believe the indiscriminate blob in the only remaining tall tree is the carcass of his pedal boat.
The photo, as dramatic as it is, doesn't begin to capture the devastation.  You have to see it to believe it, and then part of you still doesn't believe it.  The only time I ever had a similar feeling was walking through my mother and sister's house after it burned, almost 18 years ago.  The jarring detail here is that his house went from perfect to destroyed in all of five seconds.
Make that, his whole neighborhood went from perfect to destroyed in all of five seconds.
(Updated:  here is a wide look at part of his subdivision.)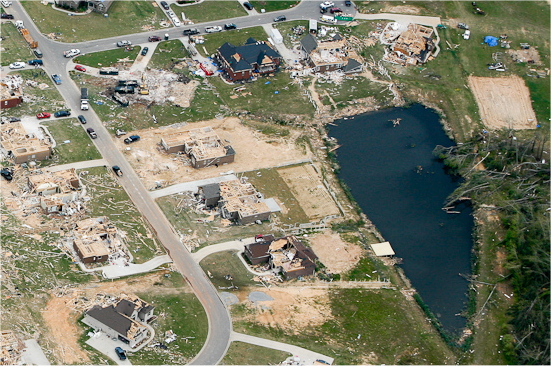 It's heinously insensitive to walk around taking photographs when literally everyone you see is trying to come out of shock long enough to recover whatever bits of their lives they can, so I didn't.  But I counted exactly two houses out of perhaps 80 that would qualify as even partially intact.  The rest have been violently spun to pieces.
Most depressingly, it's so heartbreakingly widespread.  I am merely inconvenienced in the aftermath of this disaster.  Thousands are genuinely hurting, and will for some time.  Please, please remember to keep Alabama in your prayers.  Thank you.
Similar Posts: