Behold the least necessary film of the year!
The Karate Kid is, of course, a remake of the 1984 film of the same name, and this review assumes you've seen that one.  This one is Detroit to Peking, instead of New Jersey to southern California.  The kids are four to five years younger.  The mom is brassier.  It's kung fu instead of karate.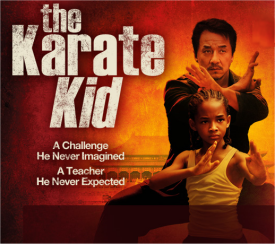 And so forth.
Mind, this is not a scene-by-scene remake.  (I think the only set of those I've ever seen are The Getaway (1972) and The Getaway (1993).)  Anyway, though The Karate Kids are not 1:1, there are enough homage scenes that they comprise a major portion of the 2010 film.
And they are easily my biggest disappointment.  There are two to three dozen of them, and they're all utterly joyless.  They're either delivered so straightly that you wonder what the point was, or they're changed in arbitrary ways, exploiting none of the available humor or irony.  If you've seen the trailer, you've seen the best one—indeed, the only good one in the film (the flyswatter).
Jaden Smith as Daniel LaRusso Dre Parker is a talented young man, and he does a fine job.  I enjoyed that he showed you a couple of his dad's mannerisms, too, and I think they were just incidental (and therefore pure).  He's easily the brightest part of the picture.  Jackie Chan's Mr. Han is relentlessly listless, with none of the charm of Mr. Miyagi—and his muscle memory training is so lame.   Wenwen Han is a lovely girl, but her love interest character is a straight stereotype.  At every turn, you can predict her lines effortlessly.
The film has scenes that largely work, but only because the corresponding scenes in the original worked.  We all like to cheer for the underdog.  When you're publicly pirating source material, it'd be nice if you could add a little something.  Otherwise, what's the point?  (See Tina Turner's cover of John Waite's "Missing You.")
Finally, though I hardly expected a political hit job, there are only the most oblique references to the fact that this population is not at all free.  This "Beijing" is certainly blessed with plentiful and beautiful shots of culture, but plotwise it might as well be Amsterdam.  Or São Paulo.  Or…Phoenix.
I'll put it to you this way.  I asked Nathan as the credits rolled whether he liked this one or the original better.  My nine-year-old son—and mind, nine-year-olds are not particularly given to reservation in thought and expression—immediately said "the first one."
If you're not grabbing a nine-year-old in the direct afterglow of the tournament scenes, you haven't made a relevant movie.
Please, don't bother.  Watch the original again.
4/10
Similar Posts: