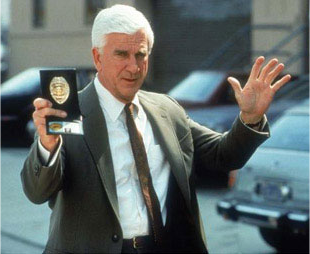 Oh, man.  Really?  Really?
I saw Drebin as a hot trending word on Twitter this morning and absently clicked it, thinking a long-rumored fourth Naked Gun movie had been formally announced.  Instead, I learn he died last night after complications from pneumonia.
(Incidentally, folks, you don't have a franchise without Mr. Nielsen.  Don't try anything lunkheaded like making another Naked Gun movie without him.)
You know, it was just Saturday that I saw a good piece of Naked Gun 33 1/3 at our third and final Thanksgiving observance of the weekend.  Whatever football game was on had ended, and it came on.  It was muted, but I was able to supply nearly all of the dialogue in my head.  Also, there are several scenes in the TV version that aren't in the theatrical version, so I enjoyed those too.
Mr. Nielsen lives in my DVD collection in some (perhaps) unexpected places.  There he is in Forbidden Planet, for example.  But it's Airplane!, and then Police Squad! and the Naked Gun films especially, where he wrote his ultimate legacy.  I saw the first Naked Gun movie four times at the theater, loved the two sequels, and was looking forward to what was reported to be the final installment.
Instead, I'll just say thank goodness we have three such films already.
Thank you for the substantial laughter, Mr. Nielsen.  RIP.