My old Oxford classmate Mary emailed me this week to see if I'd be interested in coming down to the homecoming game.  Sounds like fun!  I'll be there.  Then Karin and I talked, and she was driving over from Atlanta to be there too.
Good times to be had, but then Mary got sick, and Karin was drafted to babysit.  Well, I'd gotten excited about going to the game and seeing my friend Robby's band afterward, so I decided to go down by myself, with a dragnet thrown on Facebook to see if anyone was interested in joining me.  Marianne tried, but she was returning from a business trip too late to do anything but go home.  Tommy, a fellow Oxford low brass alumnus and a guy I hadn't seen since we moved 24 years ago, answered the call.
So we enjoyed the perfect football game weather first.  The band sounded great, and I got to hear them play the same arrangement of "Amazing Grace" (a traditional homecoming-only selection at Oxford) that I'd last played as part of that band in 1985: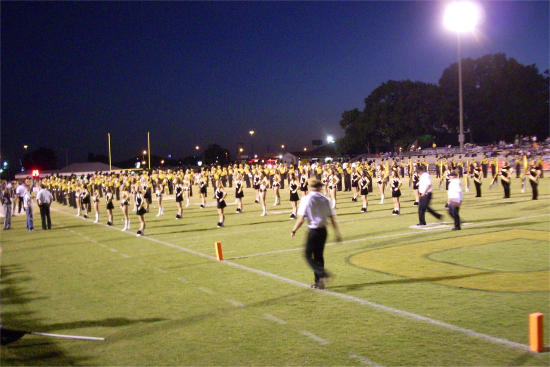 The Jackets ran over Pell City: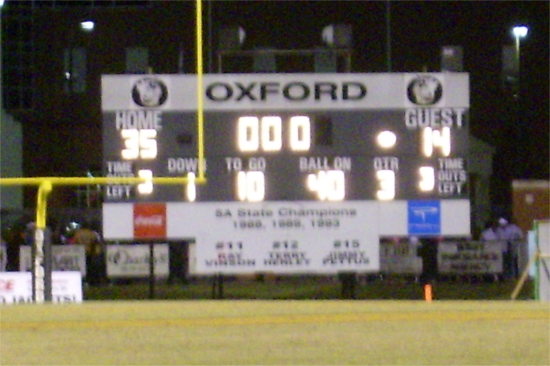 The final was 41-28, after everyone dressed played.  We left after the third quarter to avoid traffic, and to get settled at Heroes, on 21 just south of Jacksonville.  They have 34 draft beers, and at least that many more interesting bottles.  The Fire in the Hole burger is recommended.
Robby's sister was our classmate, and he was three or four years ahead of us.  He played electric bass in the marching band (really), and was one of those rare upperclassmen who already had a lot of his adult sensibilities about him, particularly the ones about being nice to people unless they give you a reason to do otherwise.  (This extended all the way down to this petrified eighth-grader experiencing his first year in public school.  I've never forgotten how kind he was, and how much I appreciated it.)
These days he fronts The Robby Jordan Band, which plays what he proudly calls real country music.  Now I'm not much of a live country music consumer, because I'm not much of a country music fan in general.  However, I always enjoy live music played well no matter what the genre, and these guys are quite good: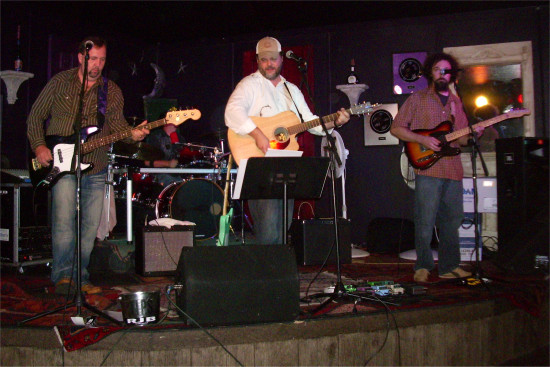 That's Robby in the center.  "Guitars, Cadillacs"; "Keep Your Hands to Yourself"; "Whiskey River"; "He Stopped Loving Her Today"; dig?  Loved "Zip City" by the Drive-By Truckers.
It was great to visit with him and meet his wife, but alas, I only had time for one set, so it was goodbye too soon.  However, they're looking at some gigs up this way.  Catch The Robby Jordan Band if you get a chance.
I'd say the trip was perfect, except for the Marshall County sheriff's deputy who rode my bumper (to a degree far beyond mere tailgating) for half a mile on the way back.  I kept waiting for his roof to light up, with no idea what I'd done, but then he slingshotted around me at 75 or so.  What was the point of that?  Pound sand, jackass.  I'd complain if I thought it'd make any difference.
It was an evening well spent.  Off to bed.  Son's soccer game in a too-small number of hours.
Similar Posts: