"For us to say that you've got to take a responsibility to get health insurance is absolutely not a tax increase." – Barack Obama, September 2009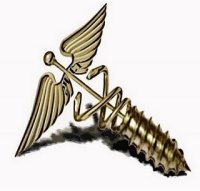 It can't be a tax increase, see.  Barack Obama repeatedly promised that there would be no tax increases on the middle class during his presidency.  So it may be the federal government requiring you to make a business transaction and charging you money if you don't, but "tax increase"?  Pish-tosh.  That's just responsible government.  That's Our Betters looking out for us.  That's hope.  That's change.
Here's George Stephanopoulos asking a bristling President Obama about it (in the interview from which the above quote comes):
You know, though, gee whiz, turns out it's a tax after all.  Quoting a July 16 New York Times article:
When Congress required most Americans to obtain health insurance or pay a penalty, Democrats denied that they were creating a new tax. But in court, the Obama administration and its allies now defend the requirement as an exercise of the government's "power to lay and collect taxes."

And that power, they say, is even more sweeping than the federal power to regulate interstate commerce.

Administration officials say the tax argument is a linchpin of their legal case in defense of the health care overhaul and its individual mandate, now being challenged in court by more than 20 states and several private organizations.
If this surprises you, then you're an awfully slow study.
Similar Posts: