The White House charm offensive continues.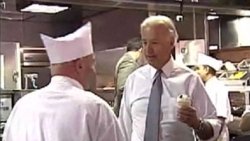 Joe Biden was recently in Kopp's Frozen Custard in Glendale, Wisconsin, first mistakenly asking for ice cream.  (No word on whether he requested a "big fucking ice cream.")
After getting his custard, he said "What do we owe you?"  The manager replied "Don't worry; it's on us.  Lower our taxes and we'll call it even."  A moment later Biden said to him "Why don't you say something nice instead of being a smartass all the time?"
He whispered he was just kidding later, though.  So, you know, it's cool.
Similar Posts: