I don't like Barack Obama at all.  I think he is the worst president of my lifetime.  His comprehensive incompetence is exceeded only by his wanton arrogance.  I think we are getting an excellent glimpse of how it would be if a preening master's student with no self-awareness and a skull full of hard-left nonsense, totally unchecked by empiricism (or even practicality), ran the United States of America.
That said, I've been hesitant to overly blame the Obama administration for the ongoing environmental disaster in the Gulf of Mexico.  There have been cheap shots to take—it's easy to pick on how many times "day one" or "from the beginning" appeared in The One's early rhetoric on the matter, for example—but by and large, I haven't taken them.  Go ahead; check.  The Search box is to the left.
No, it's BP's problem.  It's a classic low-probability, high-consequence one.  Almost all of the time, it won't happen.  It did, and they're trying to fix it, and in my estimation, they're not trying to duck anything (though the overly-lawyered appearance by the CEO last week was a bad joke).
Hey, guess what little detail "they're trying to fix it" seems to include?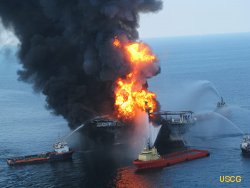 What would you think if you learned that BP told the federal government on February 13 it was having trouble sealing cracks around the Macondo well, the site of the Deepwater Horizon explosion and subsequent gusher?
What if you learned that in early March, BP informed the government that it was having trouble controlling surges of natural gas at the site (believed to be a primary factor in the explosion), including a March 10 email from a BP executive to the Minerals Management Service supervisor in charge of the district indicating a "well control situation"?
(The rig exploded April 20.)
Bloomberg has a story here.  The article where I first learned of it—an editorial calling for the president to radically change his tactics or resign—is here.
I learned at my friend Saintseester's site that the government refused all manner of help in the early days, essentially saying "thanks but no thanks" to Dutch offers to help clean water and what-not.  There's also Obama's ongoing refusal to waive the Jones Act, which is widely seen as deference to his union thugs constituency.
There were already cases to be made.
Now we learn that BP told the federal government it was having serious trouble more than two months before the explosion.  Think about the threshold for such a report to happen.  A federal regulatory agency's job is to regulate, right?  So it's a safe assumption that on BP's bottom line, such an agency is to be tolerated rather than embraced, because more likely than not it's going to act counter to profits, right?  That's what regulation is.  If it felt great, it wouldn't be necessary.
It's a root canal, not a steak and an orgasm.
So we have BP dutifully telling on itself two months before the disaster, and the Obama adminstration doing…what, exactly?
"From Day One, we have planned and prepared for the worst even as we hoped for the best." – Barack Obama, May 2
Mr. Obama, "Day One" is looking very much like February 13.
And you didn't do jack.
Similar Posts: