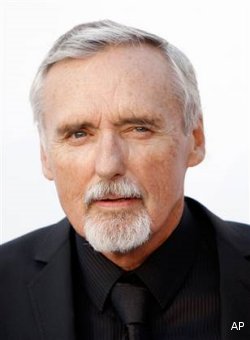 Dennis Hopper succumbed to his prostate cancer yesterday.  He was 74.
I missed Mr. Hopper's first career in Westerns, and I'm too young to really appreciate Easy Rider.  But in his second career, there he is in three of my favorite films (Super Mario Bros., Speed, and Waterworld, of course.)
Heh!  I kid.  No, they're really Apocalypse Now, Blue Velvet, and True Romance.  His appearances were brief but memorable in the first and last, but it was as Frank Booth in "sleepy" little Lumberton that he really got into me.  (He's only one of the single most disturbing characters I've ever experienced.)
"You have to let me play Frank!  Because I am Frank!" – Dennis Hopper to David Lynch
Goodbye to a great talent and colorful character.  RIP.
Similar Posts: