My thoughts and prayers are with the friends and family of Dawn Brancheau, the trainer who was killed by one of her charges at Sea World in Orlando yesterday.
I saw more than one person on Twitter either say or retweet something like "what part of 'killer whale' don't you understand?  Duh!"  Well, that is a poor response to a complex situation.
We're talking about what is essentially the largest member of the dolphin family, and even though it is the prevailing term, "killer whale" is a really bad name for it.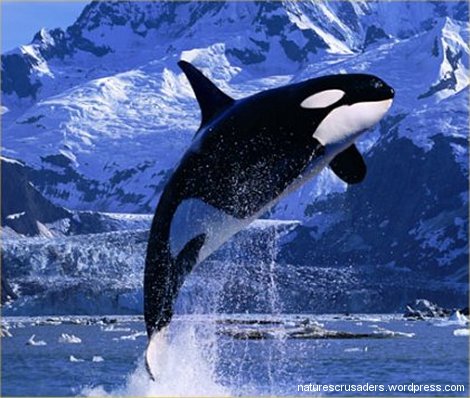 In the wild, the animal is no more a threat to people than any other cetacean.  Do you worry about dolphins and sperm whales coming to get you?  I've preferred and used the term orca for a long time.  People still know what I mean, and I'm not perpetuating a myth.
That is not to say that orcas haven't occasionally attacked and killed people before, but it invariably happens in captivity.  Why is that?
Well, it's highly likely that orcas have considerable intellect.  It's pretty clear that their play is complex.  Their communication may rise to the level of language, and there is even evidence for reasoning skills.  Moreover, they form tight and stable family units.  I suppose that could be argued away as instinct, but I could as easily argue for a basis for real emotion.
Now I'm not much on a lot of the "animal rights" prattle.  I believe the human race has many legitimate uses for many different animals, and I don't give them a second thought.  But does that extend to an orca (literally) jumping through hoops?
I'm terribly hazy on that.
I don't find it far-fetched to consider that a captive orca could be aware of his situation to a much larger degree than nearly any other animal would be.  What if he can remember what it is to swim freely, and realize day after day that he's still denied it?  What if he can remember friends and family, and contemplate the futility of hoping he'll see them again?
Couldn't it be an intelligent creature who accommodates confinement as best it can (and mathematically, that must be pretty well), but is still capable of "snapping"?  This article quotes a marine biologist who says it may well be the end result of chronic neurosis, and honestly, I find that a persuasive notion.
I don't know for sure.  You don't either.  But I'm confident such is a lot closer to the truth than "duh, it's a killer whale."
Similar Posts: